The Friday 56 (With Book Beginnings): Night Shift (Midnight, Texas #3) by Charlaine Harris + 50/50 Friday
On Friday's I take part in three weekly link ups - The Friday 56, hosted by Freda's Voice, Book Beginnings, hosted by Rose City Reader, and 50/50 Friday is a new weekly link up and it is hosted by Carrie @ The Butterfly Reader and Laura @ Blue Eye Books. For The Friday 56, you choose a book, a book you have just finished, a book you are about to start, your current read, and share a line or a few lines that grab you (but don't spoil anything) from page 56 or 56% of the way through the ebook. Post it and share your post's url on Freda's most recent Friday 56 post. As for Book Beginnings, you share the first sentence or so and your initial thoughts, impressions, or whatever else it inspires, and then link up your post's url with Rose City Reader. Then, for 50/50 Friday, every week there's a new topic featuring two sides of the same coin - you share a book that suits each category and link up on the hosts blogs.
This week I'm spotlighting my current January Jam Jar read (as a part of Devour Your TBR), Night Shift (Midnight, Texas #3) by Charlaine Harris. I've been enjoying this series and I'm interested to see how the novels wrap up. I've also really been loving the tv series (actually I prefer it to the books) - unfortunately it's been cancelled by NBC but I hope that it will be picked up by another network or a streaming service.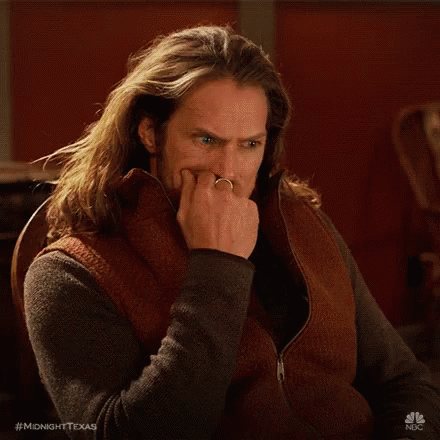 Beginning:
The first suicide arrives early one October night.
56:
"I can take him," Olivia said. She sounded remote, calm.
"I know you can, Olivia. But in this case, I just about owe this man an explanation."
50/50 Friday: Most/ Least Overrated Main Character
Most - Mare Barrow from the Red Queen series by Victoria Aveyard - This character/ series jumped to mind first. The first book was decent, in my opinion the series went down from there - and I've only read the first three. Definitely overhyped.
Least - Ling Chan and Henry DuBois (and pretty much everyone else from the ensemble cast of) The Diviners series by Libba Bray - This series deserves so much more love - Ling and Henry are my favorites by far. (In the great piece of fan art above you can see from left to right Ling, Henry, and Theta.)
What are you reading this weekend? Have you read any of these books? As always, thanks for visiting my blog and perhaps even commenting down below!