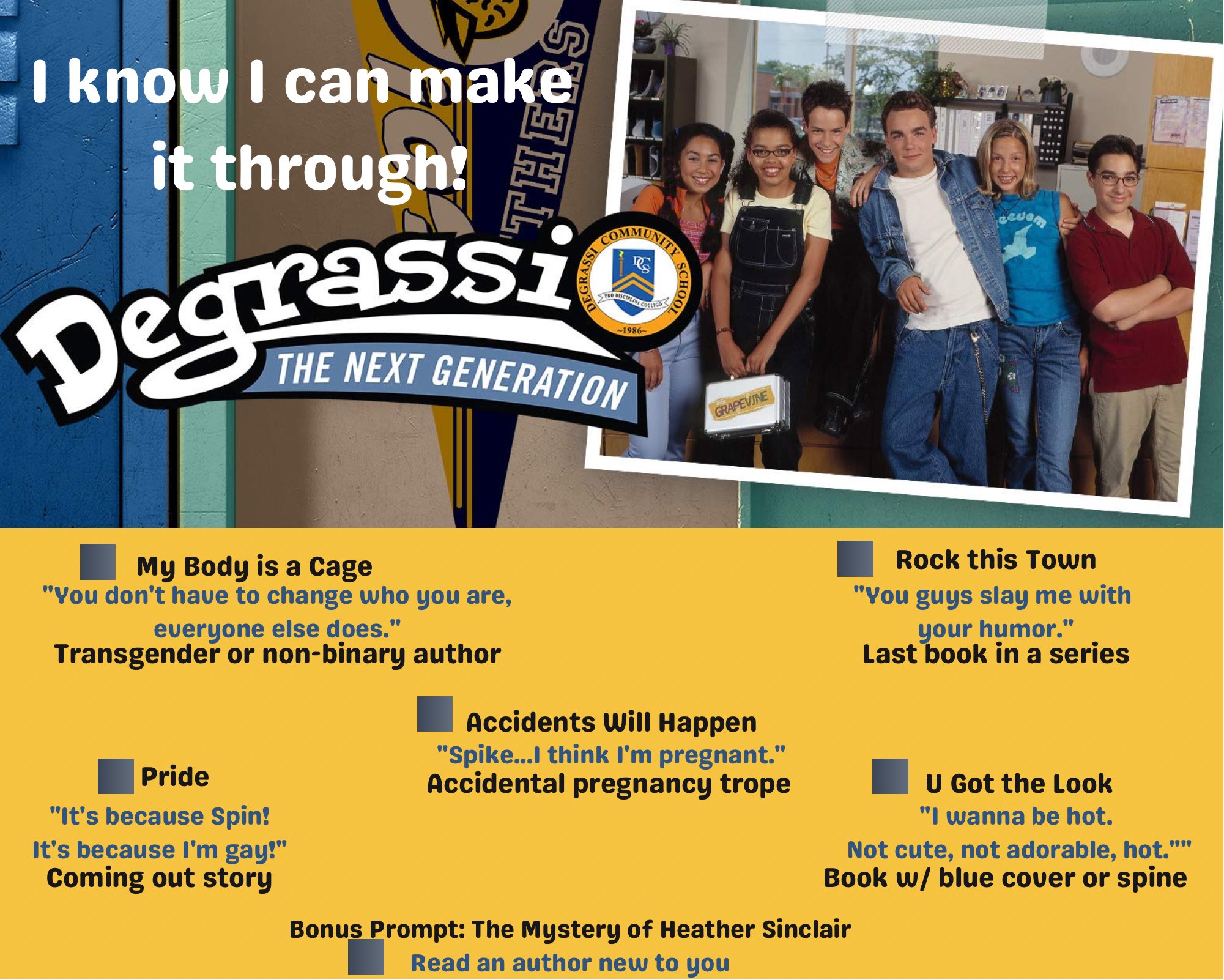 Happy Wednesday everyone! From May 16th through March 30th, I took part in the Degrassi Pop Reads, a PopCulture Readathon mini-thon, created and hosted by Whitney @ bookswhitme. This one's theme was Degrassi: The Next Generation, which I've still never actually seen. Of the five prompts plus one bonus prompt, I managed to complete a grand total of four of them. Keep reading to see my thoughts on the books I finished. You can also check out my original tbr here.
My Body is a Cage - Transgender or non-binary author
Magic for Liars by Sarah Gailey
is probably my least favorite book from this author, but it was still a lot of good fun. I love that this is just a standalone, but then again there's so much more I'd love to learn about the world of this story and its characters. Sarah Gailey is very quickly becoming one of my favorites. I have to read everything else Gailey has ever written, that's for sure.
Mortal
Heart (His Fair Assassin #3) by Robin LaFevers
was a good finale. I'm glad I finally completed the series. I know it's been a long time coming considering how long ago I read the first installment, but at least I've finally checked it off my tbr. I particularly appreciated how the author combines some real world history elements with fantasy. The cast of characters are really what make this so successful. I'm going to have to try
Courting Darkness
soon.
U Got The Look - Book w/ blue cover or spine
❋ ❋ ❋ ❋
It took Daughter of Albion (Skin #1) by Ilke Tampke a little while to grow on me but overall I ended up really enjoyed it. Historical fantasy is one of my favorite genres and I really came to enjoy Tampke's style. The further I got into it the more hooked I became on the world of ancient Britain. I didn't really have any expectations at all going in and I wasn't already familiar with the author, but I know for sure that I'm going to have to check out the sequel soon.
My review is also on Goodreads.
Bonus Prompt: The Mystery of Heather Sinclair - Read an author new to you
The Walls of the Universe (Universe #1) by Paul Melko
is a multiverse hopping story that I thought would be perfect for me. It had a fine start but the longer it went on the less invested I became in John and his duplicate. I was really looking forward to the Ohio setting. Maybe see a few places I recognize, but one thing that grated on me is the fact although it seems to be set in the mid 2000s it comes across much more like it's the mid 1950s instead. I also know that the main character is supposed to be a teen in high school, but I wouldn't have been able to guess that if I wasn't told over and over. Then again maybe that's what teens in the 1950s were like? Like awkward 40 somethings? Either way, the writing style is awkward and it bogs down the story when it shouldn't be losing steam. I won't be back for part two of this duology. Perhaps before the story was expanded into a full length novel the original novella suited it better.
My review is also on Goodreads.
Did you take part in this PopCulture Mini-Thon? Have you read any of these books? As always, thanks for visiting my blog and perhaps even commenting down below!