Hello again! I hope everyone has had a great weekend - I had a particularly good one. In book related news, I visited a new and used book store and picked up three new to me books on Saturday. I bought: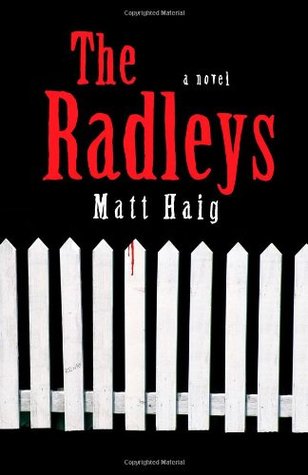 The Radleys by Matt Haig
- featuring an apparently average family that are actually vampires;
The Brokenhearted (Brokenhearted #1) by Amelia Kahaney
- Anthem and her boyfriend get mixed up with the wrong sort and he goes missing and she ends up dead only to come to in an underground lab with a bionic heart in her chest and the ability to run faster, jump higher, and fight better (by the way, it's recommended for fans of
The Lunar Chronicles
by Marissa Meyer);
and
The Eye of the World (The Wheel of Time #1) by Robert Jordan
- I have no idea why I've never picked this up before now because it sounds exactly like my kind of book.
This Wednesday, I won a copy of
The Dead House by Dawn Kurtagich
through
Teenreads
. I'm currently working my way through it and I'm really enjoying it so far!
Otherwise, back to this weekend, I went to an antiques, arts, and crafts festival on Saturday. It was outside in the historic downtown - and the weather was perfect for it. I went to it a couple years ago and it was quite a bit of fun. I was especially interested in the antiques, but it was a little more focused on arts and crafts this time. That new and used bookstore was pretty amazing and I spent a good deal of time inside browsing the shelves. There was so much to look at! I could have spent hours just to fully look at everything they had to offer.
Today, I went to the Bob Evans Farm Festival in Rio Grande, Ohio. It's a two and a half hour drive to get there, but it's always well worth the time it takes. And, it was warm and sunny, probably one of the last really nice days. The best part: One of my favorite bluegrass groups, Rhonda Vincent and The Rage, gave a free hour and fifty minute performance!
They are one of those rare groups that sound as good, if not better, than they do on their albums!
After the show, we ate at the remodeled, original Bob Evans restaurant and just a few minutes before we were going to leave, the whole band sat down to dinner a few tables over from us! I noticed several people approach the table to tell them how much they enjoyed the show, etc., and one or two even requested photos. We smiled and nodded at them as we went by, but otherwise we didn't want to bother them and let them enjoy their dinner. Such a fun day!
I hope every had a great weekend! Thanks for stopping by my blog and making it this far. I appreciate all comments and I try to respond to each every one.