These are the rules:
1. Grab a book, any book.
2. Turn to page 56, or 56% on your eReader.
3. Find any sentence (or a few, just don't spoil it) that grabs you.
5. Add the URL to your post in the link on Freda's most recent Friday 56 post.

I'm also taking part in Book Beginnings, a weekly meme hosted by Rose City Reader. The rules are pretty simple - you share the first sentence or so and your initial thoughts, impressions, or whatever else it inspires. Don't forget to link up your post's url with Rose City Reader.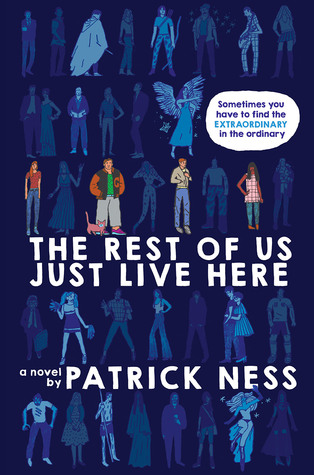 This week I'm spotlighting my current read which is by one of my favorite authors, The Rest of Us Just Live Here by Patrick Ness. This book was just released on October 6th and I can't describe how excited I am for it. The concept alone is awesome and I would read it just for that, but add in the author's skill and that awesomeness increases exponentially. I've just started it and I can't wait to read more.
Book Beginning:
Chapter the first, in which the Messenger of the Immortals arrives in a surprising shape, looking for a permanent Vessel; and after being chased by her through the woods, indie kid Finn meets his final fate.
On the day we're the last people to see indie kid Finn alive, we're all sprawled together in the Field, talking about love and stomachs.
56:
"
Henna-
"
"Please don't shout." She winces. "It makes my stomach hurt."
"I didn't even raise my voice."
"It sounded like you might."
This actually makes me angry. "When, in my entire life, have I ever shouted at you?"
"Never, I know." She breathes heavy for a minute. "My stomach hurts."