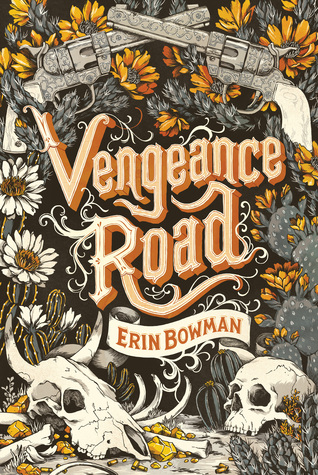 ❋
❋
❋
❋
When Kate Thompson's father is murdered for a journal revealing the location of a gold mine, Kate disguises herself as a boy goes looking for answers and justice. She finds untrustworthy strangers and a few surprising allies, including two stubborn brothers who are dead set in following her and an Apache girl. The closer Kate gets to learning the truth about her family, one thing becomes very clear: some will do anything for gold and this quest might be fatal.
In case you don't already know,
Vengeance Road
by Erin Bowman is a western. You don't see a whole lot of new westerns these days, especially those aimed at young adults. I've grown up to western movies and tv shows, and for the most part I've enjoyed them. So when a new western movie or book comes out, I'm always interested to see what it adds to the genre. This new novel by Bowman has everything you could want in a western, and more - from one of the toughest female leads out there, an atmospheric setting, great supporting characters, to epic gun play, and a wicked twist all at a fast pace that will keep you dying for more. Even if you aren't normally a fan of westerns,
Vengeance Road
is well worth reading. If you like
True Grit
, you will probably enjoy this new novel.
I read this novel from September 22 - 25, 2015 and my review is also on
Goodreads
.