Happy Tuesday and welcome back to Top Ten Tuesday, a weekly meme hosted by
The Broke and the Bookish
! This weeks topic is a Freebie, so I've elected to share my favorite Alfred Hitchcock movies (I've just been watching several of his older ones lately!). Here we go, in order by year of release:
The Lodger: A Story of the London Fog (1927)
- I hadn't seen this early Hitchcock silent film until I found one of those multi-packs of his movies and tv series. It's a thriller about the hunt for a Jack the Ripper-esque serial killer. This movie also features Hitchcock's first ever cameo, which became a standard for him afterward. Of his earlier silent movies, this is the first one to really feel like a Hitchcock movie.
The Lady Vanishes (1938)
- This was Hitchcock's last British film. It follows two travelers going across Europe via train and one discovers that her companion seems to have disappeared from the train. Others on the train to claim to never have seen her, so she ends up searching the train for clues of her friend's disappearance. Ever see the movie
Flight Plan
with Jodi Foster? It's a modern remake of this movie.
Rebecca (1940)
- This is one of my favorite book to movie adaptations. It only really changes one major plot point (because of the Hollywood Production Code) and still manages to still be just as awesome.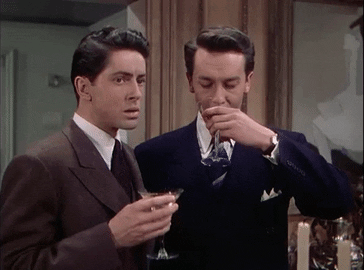 Rope (1948)
- This movie stars Farley Granger and James Stewart and is set in "real-time". The two main characters commit a murder just to prove they can get away with it and then host a party (which they had also "invited" the victim to) with the body hidden in the room where the party is being held. It's one of his more experimental movies and I'd say it's pretty underrated.
Stage Fright (1950)
- Of the movies on this list, I'd say this one is the most underrated. It's got a good cast and it actually has a healthy dose of humor mixed in with the mystery/ thriller elements of the story. It has a theatrical setting and features a good example of an unreliable narrator. I used to own a copy of this on VHS which I initially picked up because Alistair Sim was on the box (my favorite Ebeneezer Scrooge).
Strangers on a Train (1951)
- If you haven't seen this one you really should find a copy! It stars Farley Granger (who was also in
Rope
) and Robert Walker. Both are train passengers who just happen to get to talking - one is a tennis star and the other is a psycho. The psycho proposes that they exchange murders, since that way there's no way they'd be caught because there is seemingly no connection between the two. The tennis player humors him, but the psycho actually takes him seriously and needs to ensure that the other end of the bargain is upheld. This movie features one of my favorite carousel scenes ever, and the most intense tennis match I've watched. Plus, Raymond Chandler worked on the screen play!
Rear Window (1954)
- I love this one! You absolutely have to watch this if you haven't seen it yet. It's about a professional photographer who has been confined to a wheelchair with a broken leg after a mishap on a shoot. To help pass the time, he begins using his camera and lens to spy on his neighbors in the surrounding apartment buildings. He quickly begins to think one of the neighbors has murdered his wife, but first he needs to find evidence before he goes to the police. By the way, Raymond Burr, aka Perry Mason, plays the possibly murderous neighbor.
North by Northwest (1959)
- Again, this one is awesome! If you haven't seen it, what are you waiting for? It's a perfect movie about an extreme case of mistaken identity. Don't you just love that crop duster scene? Plus, you can never go wrong with Cary Grant.
Psycho (1960)
- Do I really even need to say why this classic psychological horror thriller made my list?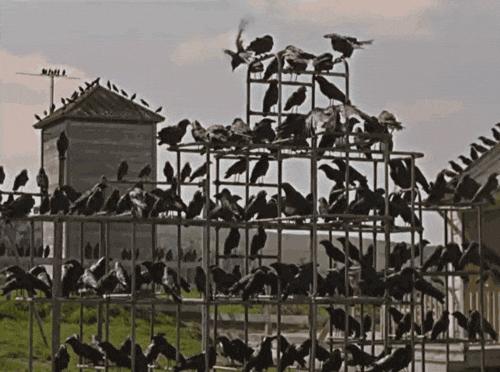 The Birds (1963)
- I never would have expected that birds could be such scary villains in a movie before I sat down and watched this... I'll never look at a bird the same way! I still want to know more after the final scene of the movie.
What do you think of my list this week? Do you like Alfred Hitchcock movies? Which one is your favorite? As always, thanks for visiting my blog, and perhaps even commenting!