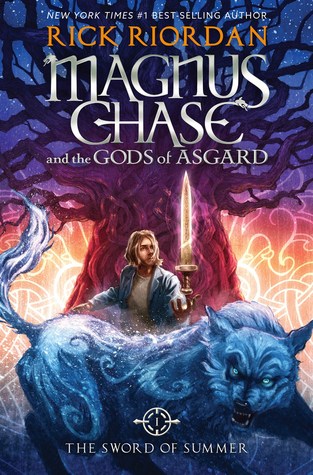 ❋
❋
❋
❋
❋
Since Magnus's mother died two years ago, he's lived on the streets of Boston by keeping his wits about him and a few steps ahead of the police and school truant officers. One day, a man his mother claimed was dangerous finds him and tells him that his father is a Norse god. Magnus thinks it's crazy talk, but then thinks back about the circumstances surrounding his mother's death and it doesn't seem quite that crazy anymore. Anyway, this crazy guy wants Magnus to help him locate an ancient sword that he believes is at the bottom of the river - and he's convinced that this sword could help prevent Ragnarok, aka Doomsday. At the worst possible moment fire giants attack Magnus to claim the sword, which would be a really, really bad thing, and if Magnus wants to save the lives of innocent bystanders he's going to have to make a lethal decision. You know what they say, the best way to start a new life is to die. Welcome to Hotel Valhalla.
Rick Riordan has easily taken his place as one of my favorite authors and I can easily say that his new series,
Magnus Chase and the Gods of Asgard
, is a fantastic new addition to his pantheon. I absolutely adored his
Percy Jackson
series and I've enjoyed what I've read of the
Kane Chronicles
so far (I have yet to dive into the
Heroes of Olympus
and
The Trials of Apollo
), so as soon as I heard that he was trying his hand at Norse mythology I had to get my hands on it after having enjoyed his take on Greek and Egyptian mythologies so much. Overall,
The Sword of Summer
is a fantastic, and hilarious, way kick off the new year. I fully expected it to be laugh out loud funny and it is - from the chapter titles, Magnus's fluency in sarcasm and his dorkiness, and the Norse gods are the kind of quirky you could expect after
Percy Jackson
. It's the characters that really make this book. Magnus, our main character, is pretty great - his internal monologue is just the best. Did I mention that he resembles a sixteen year old Kurt Cobain? I also really appreciated Samirah al-Abbas's dedication to her work as a Valkyrie, plus she's a daughter of Loki so she has a few interesting tricks up her sleeve.
Overall, I could go on an on about how much I loved meeting Magnus and Sam, exploring Hotel Valhalla, learning all about the Norse gods (Thor really steals the show - and he is nothing at all like the Marvel Cinematic Universe's Thor), and all the rest, but don't just take my word for it. If you haven't read it yet, I highly recommend getting your hands on a copy and jumping in feet first with Magnus. If you're a fan of
Percy Jackson
, you have to read this, and if you're at all interested in Norse mythology, you really need to see what you think of Riordan's highly entertaining vision. I can't wait to read the sequel,
The Hammer of Thor
.
I read this novel from December 23, 2016 - January 1, 2017 and my review is also on
Goodreads
.