The Friday 56 (With Book Beginnings): Nevermore (Supernatural #1) by Keith R.A. DeCandido + 50/50 Friday
On Friday's I take part in three weekly link ups - The Friday 56, hosted by
Freda's Voice
, Book Beginnings, hosted by
Rose City Reader
, and 50/50 Friday is a new weekly link up and it is hosted by
Carrie @ The Butterfly Reader
and
Laura @ Blue Eye Books
. For The Friday 56, you choose a book, a book you have just finished, a book you are about to start, your current read, and share a line or a few lines that grab you (but don't spoil anything) from page 56 or 56% of the way through the ebook. Post it and share your post's url on Freda's most recent Friday 56 post. As for Book Beginnings, you share the first sentence or so and your initial thoughts, impressions, or whatever else it inspires, and then link up your post's url with Rose City Reader. Then, for 50/50 Friday, every week there's a new topic featuring two sides of the same coin - you share a book that suits each category and link up on the hosts blogs.
This week I'm spotlighting one of my current reads
Nevermore (Supernatural #1) by Keith R.A. DeCandido
. This book marks my fourth read for the Make Me Read It Readathon - I'm proud of myself that I've been able to make as much headway as I have in this readathon. I have to admit, though, that my reading material for the readathon have been a bit shorter in length than usual, but it sure feels shortening my tbr stack! Anyways, this tie-in novel is set in season two between the episodes "Crossroad Blues" and "Croatoan" and it's already very promising.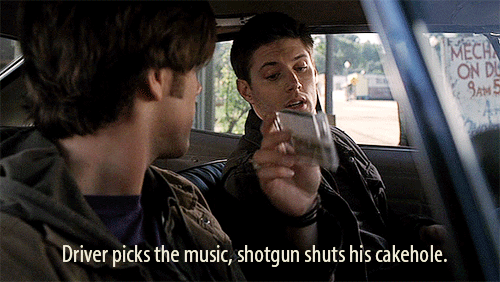 Beginning:
Fordham University
The Bronx, New York
Sunday 12 November 2006
A chill November breeze blew John Soeder's hair into his face, Mother Nature's reminder to get a haircut in the absence of his actual mother being around to nag him about it.
56:
Turning left, he [Dean] saw the massive living room, which was covered in dusty old furniture - a couch, an easy chair, and a rocking chair, as well as a big china closet and a sideboard that was covered with bottles of alcohol - piles of newspapers, magazines that had musical instruments on the covers, three guitars on stands in one corner, several amplifiers, an entire wall filled with vinyl records, anotehr wall fileed with tapes and CDs, and an entertainment center that included a battered old television and a shiny metal stereo system that included turntable, tape deck, and six-CD changer. At first, he couldn't see the speakers, then he realized there were four of them spread around the room for maximum killer sound value.
50/50 Friday: Favorite/ Least Favorite Font Style (That A Book Is Written In) -
This is a difficult one for me, but I'm actually going to take my pick from fonts available to read my ebooks in on my Kindle Fire.
Favorite
: Baskerville - For me, this font is the easiest of those available to focus on for any length of time. It's easier for me to focus on the story, not the blocks of text.
Least:
Helvetica - I always feel like this one slows my reading down, especially when it comes to longer books or bigger chunks of text. When I get to that bigger stuff, at times I'll catch myself thinking about the font style itself.
Have you ever read one of the
Supernatural
tie-in books? What are your thoughts on font style when it comes to your ereader? As always, thanks for visiting my blog and perhaps even commenting down below!