The Friday 56 (With Book Beginnings): The Silkworm (Cormoran Strike #2) by Robert Galbraith + 50/50 Friday
On Friday's I take part in three weekly link ups - The Friday 56, hosted by Freda's Voice, Book Beginnings, hosted by Rose City Reader, and 50/50 Friday is a new weekly link up and it is hosted by Carrie @ The Butterfly Reader and Laura @ Blue Eye Books. For The Friday 56, you choose a book, a book you have just finished, a book you are about to start, your current read, and share a line or a few lines that grab you (but don't spoil anything) from page 56 or 56% of the way through the ebook. Post it and share your post's url on Freda's most recent Friday 56 post. As for Book Beginnings, you share the first sentence or so and your initial thoughts, impressions, or whatever else it inspires, and then link up your post's url with Rose City Reader. Then, for 50/50 Friday, every week there's a new topic featuring two sides of the same coin - you share a book that suits each category and link up on the hosts blogs.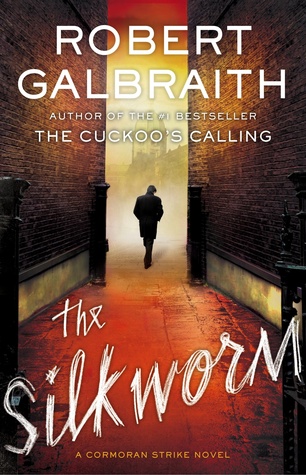 This week I'm spotlighting one of my current
#BeatTheBacklist
reads, The Silkworm (Cormoran Strike #2) by Robert Galbraith. I read book one in this series just under a year ago, and I've finally decided to continue on with it as a part of this challenge. I don't know why I didn't pick it up sooner since I enjoyed The Cuckoo's Calling as much as I did. Better late than never, right?
Beginning:
"Someone bloody famous," said the hoarse voice on the end of the line, "better've died, Strike."
56:
Strike paused at the end of the rain-sodden mews and called Robin, whose number was busy.
50/50 Friday: Favorite/ Least Favorite Book Read In July
Least favorite -
Tess of the Road by Rachel Hartman
- I actually DNF'd this at 20%. I really wanted to like it, but I couldn't get into it. Maybe I should come back to it after I read
Seraphina.
Favorite -
Scream All Night by Derek Milman
- I read quite a few good books in July, but I need to mention this one. It deserves all the love it can get!
Have you read any of these novels? What are you reading this weekend? As always, thanks for visiting my blog and perhaps even commenting down below!