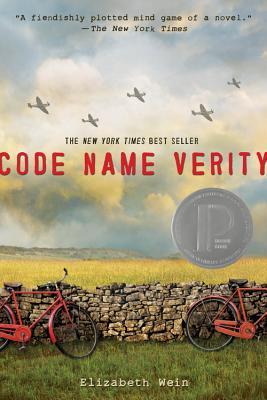 ❋
❋
❋
❋
❋
Code Name Verity by Elizabeth Wein is a phenomenal must-read historical YA fiction novel.
The story revolves around two girls, a spy and a WAAF pilot, after they crash land in Nazi-occupied France while on a mission. One gets captured by the Gestapo and is forced to report on all she knows of the Allies and her mission which builds into a confession of her friendship with Maddie, the WAAF pilot, and their work together. Other prisoners brand Queenie a coward for giving away what she does in order to stay alive, but we actually come to learn her actions are incredibly brave. I could go on and on but I don't want to spoil all of the twists and turns throughout her confession and beyond. If you haven't read this novel, you won't be disappointed when you do!
I love WWII era books, especially those featuring the WASPs or their British counterparts, the WAAFs, and this fits that bill nicely. I also enjoy an intricately woven tale of friendship featuring incredibly strong female leads. Queenie and Maddie also fit that to a tee being such fleshed out and well-written characters who behave very bravely (or cowardly) in terrible situations.
Overall, I highly, highly, highly recommend this to everyone! If you haven't read it, you should consider moving it up on your to-read list. I'm looking forward to the companion novel, Rose Under Fire.
This book was read from June 19 - 23, 2014 and this review is also on
Goodreads
.