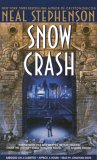 ❋
❋
❋
❋
❋
Actual rating 4.5 stars
Snow Crash
by Neal Stephenson is absolutely fantastic! If you like Cyberpunk or Dystopia, sword fights, skateboarding, virtual reality, high-speed/ high-stakes pizza delivery, mythology, and epic characters, you should really look into this one! I highly, highly recommend this novel!
Hiro Protagonist, the greatest sword fighter in the world and the Metaverse, is a hacker-extraordinaire and pizza deliverer for the Mafia-owned Uncle Enzo's CosaNostra Pizza Inc., in a future where the country has broken down into corporate-franchise city-states. Hiro and a young Kourier called Y.T. get pulled headlong into a dangerous mystery revolving around a designer drug called Snow Crash and Sumerian culture, and face what could potentially mean an information apocalypse.
I enjoyed reading both Hiro and Y.T. in this novel as both are spectacularly written characters, but to tell the truth Y.T. easily steals the show. That's how you write a strong and awesome teen girl and that's coming from someone who reads a lot of YA - so take note!
I also enjoyed just how bizarre the future is here with the franchlettes and burbclaves, but now that I think about it, it doesn't feel that farfetched after all. It actually seems plausible in the way the author has presented it. The world-building is pretty spectacular and the details make the story!
The only reason I'm taking it down half a star to 4.5 is because at times following the mythology aspect was a bit difficult for me to keep track of while listening to the audiobook. I found myself rewinding a little more than I should have been.
I can't wait to read more by Neal Stephenson!
I listened to this from August 10 - 26, 2014 and my review is also on
Goodreads
.