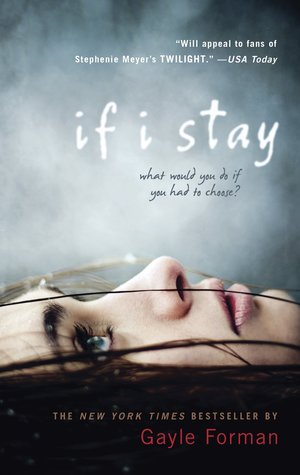 ❋
❋
❋
❋
Mia has a wonderful family, a realistic relationship with her rocker boyfriend, and a bright future as a cellist at the Juilliard. She has a lot of big choices coming her way, choices that could shift the entire future course of her life. These are choices that everyone goes through at one point in their lives. However, everything changes one snow-day when her she and her family are involved in a horrific car accident. Nearly everything is wiped away in an instant and now Mia has to make the most important decision of her life, the decision to keep fighting or to just give up.
If I Stay is a poetic and beautifully written story of love, loss, life, memory, and music. Although it deals directly with tragic loss, it is also incredibly hopeful and uplifting. As Mia thinks over what could be the final decision she ever makes, her life "flashes before her eyes" and we are let into the most intimate moments of her life. These moments primarily revolve around her relationships with her family and her boyfriend, Adam. We get to see the ups and the downs of these relationships; we get to see life.
The cast is an especially interesting one as each character is unique and realistically drawn. Like with most stories, I can't help but be pulled to examine the relationships and I must say that I like how Mia and Adam are presented. Firstly, there's no instalove or love triangles - yay! Most importantly, I can believe that the two characters are real people because like I mentioned before the relationship is presented in a refreshingly normal way. We see the good, the bad, and the awkward moments over the course of their nearly two years together.
If I Stay by Gayle Forman is a gut-wrenching story dealing with very real issues, jury's still out on the out-of-body experience, though, not exactly a tear-jerker in my case, but is definitely a story that will stay with you long after you've finished it. Personally, I couldn't have imagined it ending differently than it did, and I probably would have been beyond upset if it would have ended any other way. I do wish, though, that she "decided" a little sooner because now I'll have to read the sequel if I want to know any more after that.
I highly recommend this moving novel by Gayle Forman, especially to fans of Alice Sebold and John Green - Stephenie Meyer's not exactly a readalike, USA Today. I would also recommend that you check out the enlightening bonus material and give a listen to the music referenced throughout, especially the Yo-Yo Ma. Yo-Yo Ma is absolutely brilliant, if at all possible, go see him perform in person because he's even better live.
I am definitely interested in seeing the adaptation on the big screen this time next month!
This book was read from July 26 - 28, 2014 and this review can also be found on
Goodreads
.