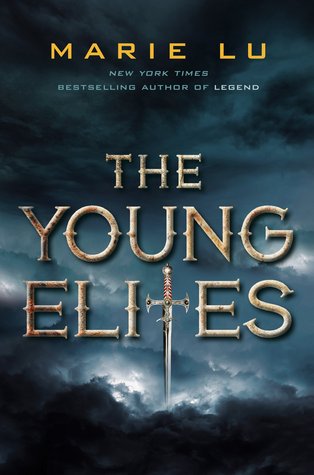 ❋
❋
❋
❋
Adelina Amouteru was a child when she survived the blood fever that wiped out a good portion of her country. Most who caught it died, but all of the children who lived came away from it with strange markings. Adelina's black hair turned silver and there's only a scar where left eye used to be. Her father considers her to be a Malfetto, an abomination ruining his merchant family's reputation and standing in the way of any potential business deals. However, there are rumors that some marked survivors have powerful and otherworldly abilities, and although their identities are secret they have come to be known as the Young Elites. As far as Adelina knows, she has no powers just scars, but on the worst night of her life she realizes that she is indeed a member of the Young Elites, with powers unlike anyone else. When she inadvertently gets pulled into the Dagger Society, a special group of Young Elites that fight against the kingdom's Inquisition Axis which seeks to destroy Malfettos with abilities, her life is changed forever.
Honestly, I prefer
The Young Elites
to Lu's
Legend
series!
Legend
was good and all, but it didn't hold my attention nearly as well as the dark fantasy world of Kenettra (something like Renaissance Venice). For the most part, I love the leading cast, but I really wish some of the supporting Daggers could have been more fleshed out. It's quite refreshing to see such a diverse group of characters, as well. I also appreciate the fact there is no love triangle, although, there is a bit of a one-sided romance on Adelina's part which got old quickly - and Adelina herself got a little annoying in that regard.
In terms of the powers and abilities, Adelina's control of illusions is quite imaginative. I am pleased to see where Lu mentally and physically takes her characters over the course of the novel. The novel takes quite a few breathtaking turns that I didn't see coming whatsoever. I cannot wait to see where the series goes from here.
The Young Elites
comes with my recommendations, especially if you are a fan of
X-Men
,
Harry Potter
, and
Throne of Glass by Sarah J. Maas.
I listened to this audiobook from December 15 - 18, 2014 and my review is also on
Goodreads
.