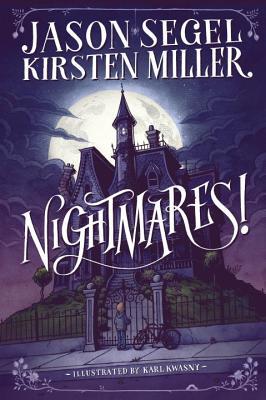 ❋
❋
❋
❋
Twelve-year-old Charlie Laird has problems. Charlie, his dad, and his little brother have to move into his new "stepmonster's" purple mansion, which is not at all a nice place, and he's pretty sure that said stepmonster is really a witch. He's also having constant nightmares, even during naps. To make matters even worse, his nightmares are now crossing over into the Waking World. Charlie will have to face his worst fears if he wants to see his family again, and he's going to need all the help he can get.
This quirky middle-grade story is fantastic and very clever. The cast is quite diverse and each character plays their role well. The book is both creepy and funny in the best of ways. There are also issues that provide some food for thought about fear, standing up for yourself, knowing when to let go, and sticking with what you believe is right. Meduso and Dabney make an odd, yet excellent combination, by the way.
I would have rated this story five stars if it were a bit scarier (although, I honestly did like the "it's our job" aspect of the Netherworld. I would have also liked more detail on the witch haunting Charlie's dreams. Basically, I think I just wanted more.
I can't forget about the brilliant illustrations. The art style worked wonderfully with the tone of the story.
Do you like
Monsters, Inc.
,
The Nightmare Before Christmas
,
Beetlejuice
, Roald Dahl, or Tim Burton? If you do, you just might like
Nightmares!
by Jason Segel and Kirsten Miller, with illustrations by Karl Kwasny. I'm really looking forward to the rest of this series!
I read this book from November 28 - December 1, 2014 and my review is also on
Goodreads
.