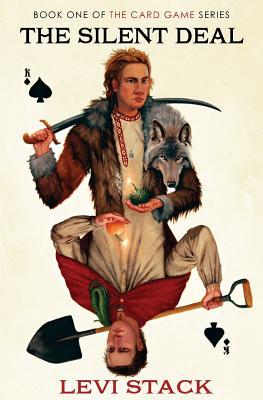 ❋
❋
❋
❋
I received a free copy of The Silent Deal from the author in exchange for an honest review.
Viktor and Romulus, two young Russian serfs, awaken the wrath of a mysterious overlord as they begin to investigate the mystery shrouding their town. Their search takes them through gambling parlors, fortune-teller dens, and dangerous forests they've never seen the likes of in the past. But even with the help of their friends, can they escape the dark experiments that their foe is creating in Staryi Castle?
The Silent Deal
was such a pleasant surprise for me. I wasn't exactly sure what to expect from the story, but it's a great beginning to
The Card Game
series by Levi Stack. The prologue had me hooked right from the beginning.
There are so many elements I enjoyed when it came to the story. I haven't read that many YA (or possibly upper-Middle Grade) novels set in 1830's Russia, so that aspect alone is quite fascinating. I also liked the fact that Stack weaves Russian folklore into the story.
In regards to our cast of characters, both Viktor and Romulus feel quite realistic, and they're both likable. Although Viktor is the lead, he is actually more of a sidekick to Romulus, which works well as we unravel the mysteries surrounding the town and the cards. Of the supporting characters, I did Belch - I mean, even if he's a bit annoying he's still funny and quotes Shakespeare.
Finally, that brings me to the complex plot and the mystery. I don't want to spoil too much, but the detailed intricacies and the twists kept me going. Levi Stack is a fantastic storyteller and he has a way with words. I found myself really caught up in it all during some of the more intense scenes.
The Silent Deal
by Levi Stack is a gem that comes highly recommended from me and I can't wait to read it's sequel,
The Magic Trick
.
I read this ebook from December 19 - 24, 2014 and my review is also on
Goodreads
.