Ms. Marvel, Volume 2: Generation Why by G. Willow Wilson, illustrated by Adrian Alphona and Jacob Wyatt - Review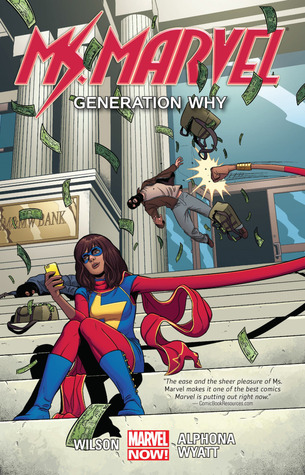 ❋
❋
❋
❋
❋
Ms. Marvel, Vol. 2: Generation Why
by G. Willow Wilson, illustrated by Adrian Alphona and Jacob Wyatt continues the adventures of Kamala Khan. Now the question is this: Who is the Inventor and what does he want with the new Ms. Marvel? She meets one of her favorite superheroes, Wolverine, and stumbles upon Inhumanity and her connection to it via a gigantic dog called Lockjaw. As she learns more and more about her past, the Inventor continues to threaten her future existence. She joins up with an unlikely batch to try to put a stop to this birdbrained genius Inventor before he can cause irreversible damage, but has she stretched herself too far? How long will she be able to keep her two lives separate before things start to catch up to her.
I can't describe how excited I felt when this came in for me at the library much sooner than I expected it to! G. Willow Wilson's
Ms. Marvel
is an absolute must-read for everyone, not just fans of comics and graphic novels. I like that we're getting a wider look, along with Kamala, at her new world by introducing Wolverine, Captain America (not just a vision), Queen Medusa, Lockjaw, and the Inhumans. I may not be all that familiar with them, but they are introduced in an accessible way. Like the Booklist blurb says, this "comic is full to bursting with heart and charm." Wilson's writing (Kamala gives some inspiring speeches, by the way) and Alphona and Wyatt's art are simply fantastic and complement each other well. This series is one of the best out there and I'm really looking forward to
Volume 3: Crushed
which promises to feature SHIELD agent Jenna Simmons and Loki!
I read this graphic novel on May 10, 2015 and my review is also on
Goodreads
.