These are the rules:
1. Grab a book, any book.
2. Turn to page 56, or 56% on your eReader.
3. Find any sentence (or a few, just don't spoil it) that grabs you.
5. Add the URL to your post in the link on Freda's most recent Friday 56 post.

I'm also taking part in Book Beginnings, a weekly meme hosted by Rose City Reader.
The rules are pretty simple - you share the first sentence or so and your initial thoughts, impressions, or whatever else it inspires. Don't forget to link up your post's url with Rose City Reader.
This week I'm featuring my current read, Not a Drop to Drink by Mindy McGinnis. I won this a while ago and finally decided to see what the fuss is all about! I've just started it but it seems promising and I've heard great things about it. Just based on these two snippets, it sounds like it's going to be a very intense read!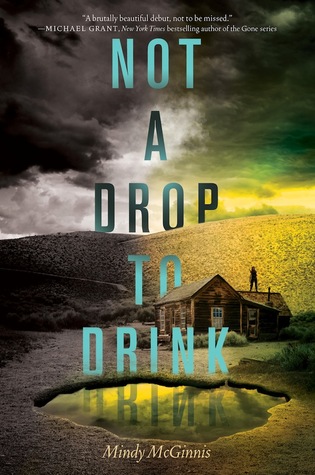 Book Beginning:
Lynn was nine the first time she killed to defend the pond, the sweet smell of water luring the man to be picked off like the barn swallows that dared to swoop in for a drink. Mother had killed the people who came too close to their pond before, but over the next seven years they fell by Lynn's gun as well, their existence easily wiped out first by a bullet, then by the coyotes before the sun could rise. Death and gunpowder were scents from her childhood, but today the fall breeze brought something less familiar to her rooftop perch, and her nose wrinkled.
56:
Lynn debated. Going out would be difficult. Without Mother, even trips to the pond were a test of nerves. with no one to cover her back, every step felt like a reprieve from death, each silent second without a sniper's bullet an unprayed-for miracle.