These are the rules:
1. Grab a book, any book.
2. Turn to page 56, or 56% on your eReader.
3. Find any sentence (or a few, just don't spoil it) that grabs you.
5. Add the URL to your post in the link on Freda's most recent Friday 56 post.

I'm also taking part in Book Beginnings, a weekly meme hosted by Rose City Reader.
The rules are pretty simple - you share the first sentence or so and your initial thoughts, impressions, or whatever else it inspires. Don't forget to link up your post's url with Rose City Reader.
This week I'm spotlighting my next read, The Iron King by Julie Kagawa. I'm actually kind of ashamed I haven't already read it. Based on these two snippets, I'm definitely intrigued to find out more!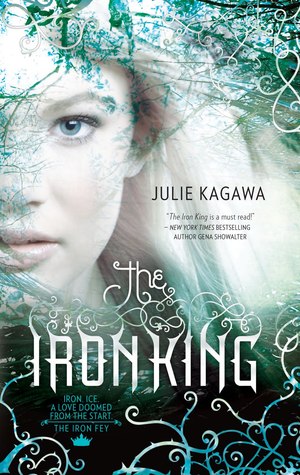 Book Beginning:
The Ghost in the Computer
Ten years ago, on my sixth birthday, my father disappeared.
No, he didn't leave. Leaving would imply suitcases and empty drawers, and late birthday cards with ten-dollar bills stuffed inside. Leaving would imply he was unhappy with Mom and me, or that he found a new love elsewhere. None of that was true. He also did not die, because we would've heard about it. There was no car crash, no body, no police mingling about the scene of a brutal murder. It all happened very quietly.
56:
He nodded and held up the wine bottle. "This is mistwine. You just had a swallow. A cup will make everything go back to normal." He balanced the bottle on two fingers, watching it sway back and forth. "One cup, and you'll be normal again. Your brother's behavior will not seem strange, and you won't remember anything weird or scary. You know what they say - ignorance is bliss, right?"