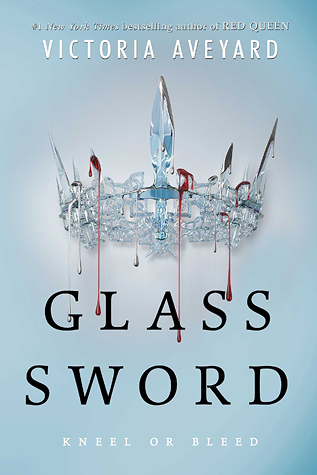 ❋
❋
Chased by the new king, a power-hungry and psychotic Maven, Mare sets out to find other Newbloods, plus recruit fellow Reds and Silvers not happy with the status quo, in order to build an army with enough strength to take out their oppressors. As Mare continues down this path, she is at risk of turning into the same kind of monster that she's willing to defeat. She will either shatter like a glass sword under the weight of her mission, or she will find that she has hardened her heart to the treachery and betrayal she has encountered first hand.
I wanted to like
Glass Sword
by Victoria Aveyard more than I did. Although, I wasn't completely impressed by
Red Queen
, the first installment in the series, I enjoyed it well enough. I couldn't resist the
X-Men
and
The Hunger Games
similarities. While
Glass Sword
retained some of the elements of both, more so of the
X-Men
in this case, it just didn't quite have what I liked about
Red Queen
.
My favorites parts about this novel are the action scenes - Aveyard certainly has the ability to write these expertly. Otherwise, I had three main issues with this novel - pacing, Mare, and Maven. First, pacing seemed to be all over the place - from breakneck action at the beginning, a boring and slow middle, to back to breakneck at the end. I didn't need to be with the characters every step of the way, a good deal of the middle could have been trimmed down and I don't believe the story really would have suffered. Also on that note, the novel seemed to be trying to do too much, as well. It got confusing trying to keep track of all of the new places and faces that were being introduced every other chapter. Of all of the new characters, the most fascinating is Jon, a powerful eye they come into contact with - I would like to know so much more about Jon and his abilities.
Second, Mare herself was another problem the more I read into the story. I liked her quite a bit in
Red Queen
, but here I didn't very much at all. She becomes quite unlikable in her quest to defeat the enemy. That brings me to the my third issue, Maven. The new king is talked about pretty much non-stop throughout the book, but we barely get to see him. Out of four hundred and forty pages, we only actually get to see him for around seven or eight pages of those pages, if that.
Personally, I was just hoping for this between Mare:
and Maven:
Overall, I found myself disappointed by
Glass Sword
, Victoria Aveyard's follow up to
Red Queen
. If you are a big fan of the first book in this series, you'll probably want to carry on with this novel, but you shouldn't hold your breath - unless you're just in it for the action-y stuff because there's plenty of that, just sit back and enjoy the explosions with a bowl of popcorn.
I read this book from May 12 - 16, 2016 and my review is also on
Goodreads
.