Welcome to The Friday 56, a weekly meme hosted by
Freda's Voice
.

These are the rules:
1. Grab a book, any book.
2. Turn to page 56, or 56% on your eReader.
3. Find any sentence (or a few, just don't spoil it) that grabs you.
5. Add the URL to your post in the link on Freda's most recent Friday 56 post.

I'm also taking part in Book Beginnings, a weekly meme hosted by Rose City Reader. The rules are pretty simple - you share the first sentence or so and your initial thoughts, impressions, or whatever else it inspires. Don't forget to link up your post's url with Rose City Reader.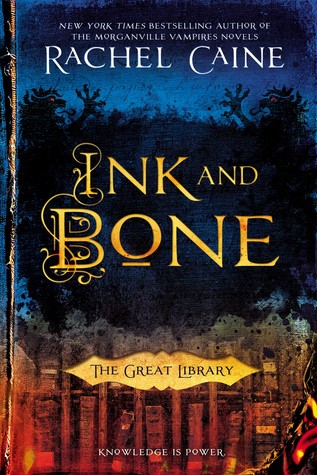 This week I'm spotlighting one of my current reads, Ink and Bone (The Great Library #1) by Rachel Caine. I'm not very far into it yet, but I'm loving it so far! As a librarian and bookworm,
I simply can't resist the idea of the Great Library of Alexandria still being in existence!
Beginning:
Six Years Ago
"Hold still and stop fighting me," his father said, and slapped him hard enough to leave a mark. Jess went quiet. He hadn't meant to fidget, but the pouch strapped to his bare chest felt hot and dangerous, like some animal that might turn on him and bite.
56:
"On the highest possible level, the Library exists because each nation of the world benefits from it, and because the Library favors none, relies on none. It took time to free ourselves from the politics, kings, and priests; it took time to assemble the wealth and the force to defend what we have. But most of all, it took a miracle."