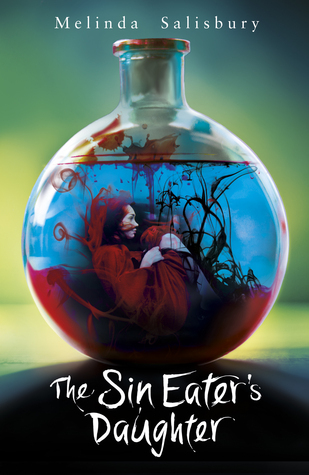 ❋
❋
❋
Twylla lives in the castle and is betrothed to the Prince, but she isn't a princess. In fact, she is the daughter of the Sin Eater and she is the Goddess embodied and acts as the royal executioner. She has poison in her veins and can kill with a single touch. Every month she kills the traitors to the crown - she's even been forced to kill her only friend. The prince, while immune to her poison because of his royal blood, actively avoids her - who could love a girl with murder in her blood. Her new guard, Leif, seems to be able to overlook the executioner and Goddess embodied and see the girl underneath. However, treasonous romance should be the least of their concerns because the queen has a plan to destroy her enemies that will require Twylla to make a huge sacrifice to protect her kingdom, that is, if she's not to busy thinking about her love story with Leif.
The concept behind
The Sin Eater's Daughter
caught my attention from the moment I heard about it - I mean, an executioner with fantastical abilities to kill with one touch? That sounds exactly like something up my alley. However, the forbidden romance and instalove pretty much overpower the entire story. Plus, after reading it I wouldn't really call it an epic fantasy - it's definitely a romance set in a fantasy world kingdom where very little actually happens. Both Twylla and Leif grated on me, as well. Twylla (pronounced T'Willuh, not T'Why-Luh) is quite naive and only seems to a) agonize over her powers b) agonize over the fact that no one could possibly love her because of her powers and c) fall madly in love with her new guard and want to hang all of the rules and potentially commit treason because he actually gives her the time of day. Leif was interesting at first because of his differences of opinion in comparison to Twylla and the rest of the kingdom, but the more he kept going on about all of it the less interested I became - probably because I was hoping he was wrong, but
(view spoiler)
[he wasn't where it counted (hide spoiler)]
. Personally, I was halfway hoping the queen would be victorious.
Overall, this book wasn't terrible, but it could have been much better. If it wasn't for the final set of twists and reveals, the lush writing style, and the dulcet tones of the audiobook narrator, I would have only given this book two stars. If you enjoyed
Shatter Me
by Tahereh Mafi and
Cruel Beauty
by Rosamund Hodge, you may also enjoy
The Sin Eater's Daughter
by Melinda Salisbury. Unfortunately, I doubt I'll be continuing on to the sequel,
The Sleeping Prince
, anytime soon.
I listened to this audiobook from May 7 - May 9, 2016 and my review is also on
Goodreads
.