On Friday's I take part in three weekly link ups - The Friday 56, hosted by
Freda's Voice
, Book Beginnings, hosted by
Rose City Reader
, and 50/50 Friday is a new weekly link up and it is hosted by
Carrie @ The Butterfly Reader
and
Laura @ Blue Eye Books
. For The Friday 56, you choose a book, a book you have just finished, a book you are about to start, your current read, and share a line or a few lines that grab you (but don't spoil anything) from page 56 or 56% of the way through the ebook. Post it and share your post's url on Freda's most recent Friday 56 post. As for Book Beginnings, you share the first sentence or so and your initial thoughts, impressions, or whatever else it inspires, and then link up your post's url with Rose City Reader. Then, for 50/50 Friday, every week there's a new topic featuring two sides of the same coin - you share a book that suits each category and link up on the hosts blogs.
This week I'm spotlighting one of my current reads,
The Lying Game by Ruth Ware
. It's her newest mystery release and I couldn't resist when I saw it at the library since I enjoyed
The Woman in Cabin 10
and
In a Dark, Dark Wood
as much as I did. Anyway, I'm not that far into yet, but I'm liking what I'm seeing so far.
Beginning:
The sound is just an ordinary text alert, a quiet
beep, beep
in the night that does not wake Owen, and would not have woken me except that I was already awake, lying there, staring into the darkness, the baby at my breast snuffling, not quite feeding, not quite unlatching.
56:
Kate took it and put it to her lips, and when she drank, it wasn't a cautious swig like the ones Fatima and I had taken, but two, three full-on gulps, without pausing, or even flinching; she might have been drinking milk.
50/50 Friday: Best/ Worst Book Read In August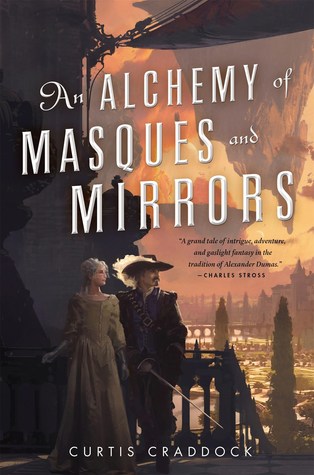 Best -
An Alchemy of Masques and Mirrors by Curtis Craddock
- Possibly even the whole year!
As always for visiting my blog and perhaps commenting down below. Happy Friday!