The Friday 56 (With Book Beginnings): Every Which Way But Dead (The Hollows #3) by Kim Harrison + 50/50 Friday
On Friday's I take part in three weekly link ups - The Friday 56, hosted by Freda's Voice, Book Beginnings, hosted by Rose City Reader, and 50/50 Friday is a new weekly link up and it is hosted by Carrie @ The Butterfly Reader and Laura @ Blue Eye Books. For The Friday 56, you choose a book, a book you have just finished, a book you are about to start, your current read, and share a line or a few lines that grab you (but don't spoil anything) from page 56 or 56% of the way through the ebook. Post it and share your post's url on Freda's most recent Friday 56 post. As for Book Beginnings, you share the first sentence or so and your initial thoughts, impressions, or whatever else it inspires, and then link up your post's url with Rose City Reader. Then, for 50/50 Friday, every week there's a new topic featuring two sides of the same coin - you share a book that suits each category and link up on the hosts blogs.
Beginning:
I took a deep breath to settle myself, jerking the cuff of my gloves up to cover the bare patch of skin at my wrist. My fingers were numb through the fleece as I moved my next-to-largest spell pot to sit beside a small chipped tombstone, being careful to not let the transfer media spill. It was cold, and my breath steamed in the light of the cheap white candle I had bought on sale last week.
56:
I smiled, settling myself farther into the seat, my fluster vanishing at Jenks's star fawning.
50/50 Friday: Favorite Book Set Where You Live/ Another Place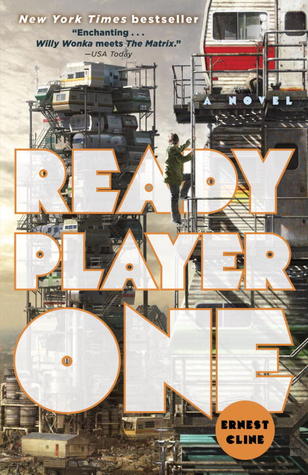 Where I Live -
Ready Player One by Ernest Cline
- This book is so much fun and I was so pleased to find out that it's set in Columbus, Ohio, the capital of my home state (I live about 45 minutes from there)! It's seems so rare that such a popular novel is set in Ohio... and I was pleased to hear them talk about Columbus in the movie (even though it wasn't actually made there).
Another Place -
Birds, Beasts and Relatives (The Corfu Trilogy #2) by Gerald Durrell
- For last year's Read Harder Challenge, hosted by Book Riot, one of the tasks was to read a book set 5,000 miles away from my location. Well this classic series of memoirs is set in Corfu, making it set about 5,100 miles away from me. If you haven't read this series, I highly recommend it (book one is called
My Family and Other Animals
) and there have also been a couple of fantastic adaptations (the
2005 tv movie
featuring Imelda Staunton, Matthew Goode, and Russell Tovey and
The Durrells in Corfu
which will return with season 3 on PBS on September 30th).
Have you read any of these books? What's your favorite book set close to where you live? What are you reading this weekend? As always, thanks very much for visiting my blog and perhaps even commenting down below!