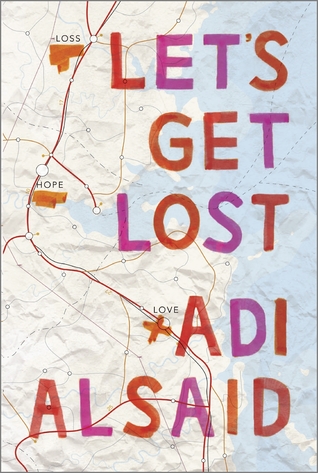 ❋
❋
❋
❋
Hudson, Bree, Elliot, and Sonia live in completely different parts of the USA, but they all have one thing in common: Leila. Leila unexpectedly comes into their lives in her absurdly red car right when they need someone the most. Leila is on a road trip from Louisiana to Alaska in order to see the Northern Lights and discover the truth - most importantly that sometimes what you need is back where you started and that maybe in order to find what you're looking for is to get a little lost on the way. Leila doesn't just change her new found friends, they also change her.
Usually I don't read a whole lot of Contemporary YA, but Adi Alsaid's new novel caught my eye. I had heard so many good things about it going in and then reading the praise on the back cover made it sound irresistible. And, you know what? It is absolutely a captivating read that hooked me into following Leila's quest. This book is also infinitely quotable with lots of pearls of wisdom mixed with generous doses of humor.
Let's Get Lost
is essentially five short stories that take place on Leila's trip north as she comes into the lives of four other teenagers. Each of whom she helps realize something about themselves, even if they don't realize it until later, or necessarily agree with at the time. Each story and voice is unique, memorable, and moving and revolves around the themes of love, loss, and hope. Since the book is primarily told from the perspective of other characters, there is a mysterious aspect to Leila as she swoops in just when she's needed. By the final section of the book, I found myself very pleased to read from her own perspective. Everything really comes together in a manner that took my breath away.
Alsaid is a strong new voice for readers to fall in love with and I recommend his sweetly quirky novel that's about way more than just a road trip. Fans of John Green, Rainbow Rowell, Sarah Dessen, and David Levithan won't want to miss it!
I read this book from January 7 - 10, 2015 and my review is also on
Goodreads
.