These are the rules:
1. Grab a book, any book.
2. Turn to page 56, or 56% on your eReader.
3. Find any sentence (or a few, just don't spoil it) that grabs you.
4. Post it.
5. Add the URL to your post in the link on Freda's most recent Friday 56 post.
This week I am spotlighting Pegasus by Danielle Steel. This will be my second book by this author, the first being Echoes, which I actually enjoyed more than I expected, although my bar was set incredibly low. I didn't really expect to come back to this author - just not my style - but a book club I'm in has selected this book for our next meeting. I have a sneaking suspicion that the white stallion named Pegasus will not be capable of flight. At least I have the Ringling Brothers Circus, if nothing more, to look forward to in this new novel.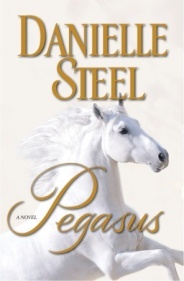 "I met your little boy today, she said, when they stopped outside her door. "He's adorable."
"Yes, he is, thank you," Nick agreed warmly. "I think he met everyone on the ship today, including all the sailors. He's having fun."
"So am I," she said, looking wistfully at Nick. "I loved dancing with you tonight. I haven't been dancing in months."