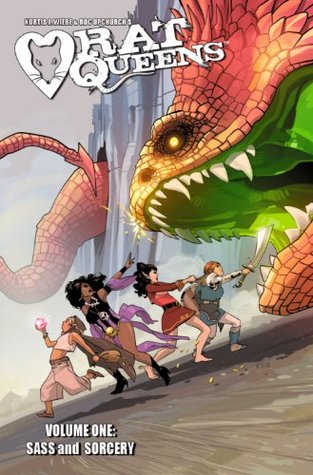 ❋
❋
❋
❋
❋
The Rat Queens are a four-piece group of lady mercs out to make a profit by killing all manner of monsters. They're made up of Hannah the Elven Mage, Violet the Dwarven Fighter, Dee the Human Cleric, and Betty the Smidgen (think Halfling/ Hobbit) Thief. However, their most recent quest makes it look like someone has set them up and led them straight to their impending doom.
Rat Queens, Vol. 1: Sass & Sorcery
by Kurtis J. Wiebe and Roc Upchurch is so much bloody fun! I've seen it floating around the blogosphere for a little while and I decided it was high time to get my hands on a copy, and I am glad I did. I don't know why I didn't look into this graphic novel series sooner, actually! I loved the twisted contemporary turns on these classic epic fantasy characters - and I loved getting to know each of them in turn. I can honestly say that these are the kinds of characters that make you want to either be them, or be best friends with them. Either way, you wouldn't want to be on their bad side. I can't recommend this graphic novel enough. I bet you would also fall in love with it, if you are a fan of
Saga
by Brian K. Vaughan, Noelle Stevenson, and
Buffy the Vampire Slayer
. I need to continue reading about Hannah, Violet, Dee, and Betty's adventures!
I read this graphic novel on July 14, 2016 and my review is also on
Goodreads
.