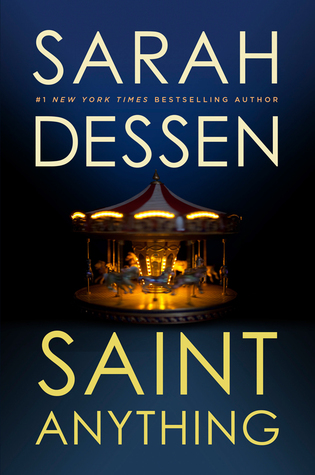 ❋
❋
❋
❋
Sydney has always lived in her older brother, Peyton's, shadow. He always been the star family member. However, Peyton becomes more and more reckless culminating in arrest and jail time for hitting and paralyzing a kid while driving drunk. No one knows what to do, or how to go back to normal, least of all Sydney. In fact, her own parents don't seem to understand the magnitude of what Peyton has done, and only Sydney appears to be concerned about the victim, a boy who's life has been irrevocably changed due to her brother's poor decisions. As Sydney starts at the public school, rather than her posh private school, she meets the warm and accepting Chatham family in which she finds new friends, and possibly something more, as she begins to feel like she's being seen for the first time.
Saint Anything
is the second book that I have read by Sarah Dessen and, like with
The Truth About Forever
, I was not disappointed. This somewhat overlong novel features some pretty heavy emotional themes, such as consequences of poor decisions and bad behavior, incarceration, and its effects on a family. It also tackles moving on and finding yourself, friendship and support, and a sweet slow burn romance. Thankfully, it does these things well. Dessen's lyrical writing is equally good at exploring new friendships and a sweet, slow burn romance, as it is real consequences of bad behavior. Really, though, I was invested in Sydney's self-discovery and learning to move on and become her own person.
The characters really make this novel. Sydney herself is quite relatable considering all that she's been through. Her two new friends, Layla and Mac, however, really steal the show. Both are fantastic characters who have lots of depth to them. Plus, they have a good and refreshing relationship with their own family. They help out their father at the family pizza parlor and they pitch in to help their mother who has MS. Also, they play bluegrass music! That is one of my favorite genres of music and I was really happy to see it get some positive page time in a YA Contemporary. Anyway, Sydney gets accepted into Layla and Mac's friend group, each member of which is good, but unfortunately they aren't as fleshed out, so as not to take our attention away from her relationship with the brother and sister pair.
In regards to Sydney's own family, her parents, especially her mother are pretty irritating when it comes to how they treat Sydney, yet are unwilling to recognize let alone accept what her sibling has actually done. I guess you could say that they don't want her to go down the same path, but she gives them no cause to think that. It seems to me that they more concerned about another scandal than anything else. Sydney's father mostly just seems to go along with whatever her mother wants, whether he believes in it or not. As for Ames, her brother's friend, how could Sydney's parents not notice his creepy tendencies? Finally, as for Peyton himself, we don't see that much from him directly although he is in prison during the course of the story. However, I would have preferred to have seen more from him directly, especially his relationship with Sydney.
Overall, I enjoyed dipping into Sarah Dessen's latest novel,
Saint Anything
. It is thoroughly engrossing, which I don't often say about YA Contemporary novels. The darker subject matter, complex characters, and honest self-discovery make this well worth the read.
I read this novel from June 11 - 16, 2016 and my review is also on
Goodreads
.