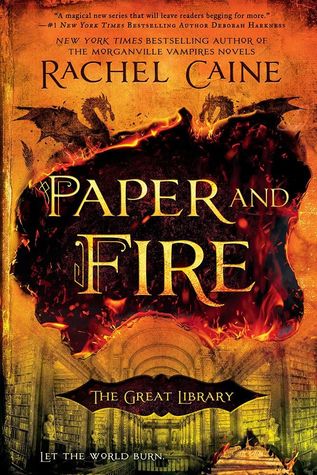 ❋
❋
❋
❋
I won an ARC copy of this novel through Goodreads Giveaways. Thanks very much, Goodreads!
I'm going to share my love of this series with a giveaway of my own, so be sure to stick around!
Serving in the High Garda is nothing like Jess Brightwell expected. He survived his studies as a postulant under Scholar Wolfe, but now everything has changed. His best friend is gone and Morgan has been taken away to the Iron Tower. When Jess and his allies receive word that all might not be lost, they undertake a daring rescue mission that will place them in an even more dangerously precarious position with the Library, an institution that will not hesitate to bury what it deems to be a threat to its control over the world.
Paper and Fire
, the second installment of Rachel Caine's addicting new
Great Library
series, is a thrilling follow-up to last year's
Ink and Bone
and I enjoyed every second of it. It kicks off several months after the conclusion of the previous novel and we get a clear look into how the surviving members of Jess's postulant class have fared in their new roles, from Jess and Glain in the Garda to Khalila and Dario as Scholars - with Morgan's fate in the Iron Tower as a collared Obscurist largely unknown. I enjoyed seeing our diverse main cast come back together, even if it is under such dangerous circumstances. They have all grown as characters and are back in top form. Wolfe and Santi are still a couple of my favorites, but I wish they were around for more of it. Admittedly, they do have some major scenes and they have their moments, so that just might be a personal preference.
We also get more world-building with a better look at the world of Alexandria, the Great Library's headquarters, as well as a bit more of the wider world. My favorite place they visit has to be Rome, and that is largely due to a reconstruction of the Roman Forum, which I've always found fascinating. Alongside this helping of world-building, the ante has been upped dramatically. There's quite a bit more at stake and there's a good deal more action than we saw before in the first installment. Some of those scenes with the Library's automata get very intense!
Overall, the character dynamics, world-building, and action of
Paper and Fire
make it an intriguing, pulse-pounding read that I didn't want to put down. All that being said, I didn't quite love this installment as much as I did
Ink and Bone
. I don't know how many books are going to be in this series, but I got the impression that this is the middle book. Either way, though, I can't wait to get my hands on volume three of Rachel Caine's
The Great Library
series and see what comes next for Jess and his fellow rebels!
I read this ARC from June 16 - July 4, 2016 and my review can also be found of
Goodreads
.
Now, for the moment you've been waiting for:
I want to share my love of this series, so I'm hosting an international giveaway! I'm giving away a copy hardcover copy of
Ink and Bone
, the first novel in this series, as well as my ARC of
Paper and Fire
to one lucky winner! This giveaway begins now and concludes at midnight on July 12th. The winner will be notified via email and will have 48 hours to respond and claim their prize. Get your entries in now - and may the odds be ever in your favor!
a Rafflecopter giveaway