Welcome to The Friday 56, a weekly meme hosted by
Freda's Voice
.

These are the rules:
1. Grab a book, any book.
2. Turn to page 56, or 56% on your eReader.
3. Find any sentence (or a few, just don't spoil it) that grabs you.
5. Add the URL to your post in the link on Freda's most recent Friday 56 post.

I'm also taking part in Book Beginnings, a weekly meme hosted by Rose City Reader. The rules are pretty simple - you share the first sentence or so and your initial thoughts, impressions, or whatever else it inspires. Don't forget to link up your post's url with Rose City Reader.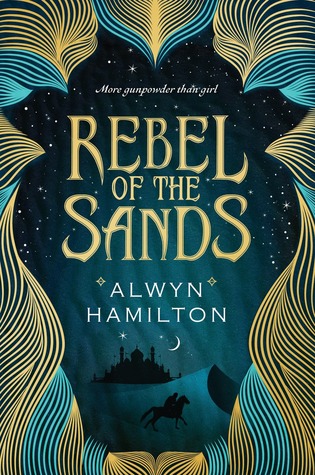 This week I'm spotlighting a book that I'm super excited to begin, Rebel of the Sands (Rebel of the Sands #1) by Alwyn Hamilton. This is one of my most anticipated reads of year and I can't wait to begin a novel that I've heard so many amazing things about from fellow bloggers. I'm more than ready for this Middle Eastern-inspired fantasy western!
Beginning:
They said the only folks who belonged in Deadshot after dark were the ones who were up to no good. I wasn't up to no good. Then again, I wasn't exactly up to no bad neither.
56:
"Don't suppose you're going to tell me what you're doing here?" I asked. "If Xicha is so wonderful?"
"Don't suppose I am," he replied, wincing as the needle went through his skin. "Don't suppose you're going to tell me what made you lie to our friend Commander Naguib Al'Oman for me?"
"Don't suppose so." My needle paused in his skin. "Naguib Al'Oman?" They were both common names, but all the the same. "He's the Sultan's son?"
"How is it you know that?" His head dipped a little, breath deepening as I pushed the last stitch in.