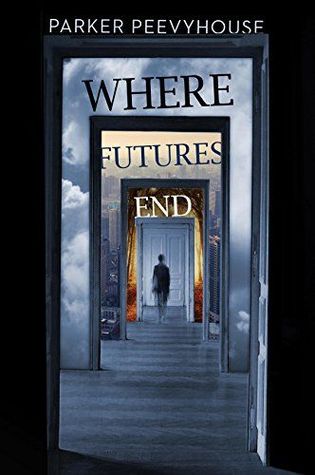 ❋
❋
❋
❋
In a year from now, Dylan will begin to develop a sixth sense allowing him to see into another world. In ten years, Brixney will have to get more hits on her social media in order to avoid being sent to a debtor's colony. In thirty years, Epony will go High Concept by removing her online profile. In sixty years, Reef's life will be a a constant struggle in a city turned virtual game board. In one hundred years, Quinn will learn the alarming secret that ties all five of them together.
Where Futures End
by Parker Peevyhouse is a fascinating debut that is comprised of five intricately plotted novellas. Each of the five stories is able to stand on it's own because each appears to be quite different on the surface, and it isn't until that final story that one really begins to understand just how tightly interwoven they truly are. Peevyhouse's prose is consistently excellent across the board, and the characters are all well-drawn. I listened to it on audiobook and the multiple narrators really suit the nature of the novel. While I enjoyed each story, my favorites are the first, featuring Dylan, and the last, featuring Quinn.
Parker Peevyhouse's
Where Futures End
is an unique and ambitious YA sci-fi novel. If you enjoy
Donnie Darko
plus
Cloud Atlas
, with a dash of
The Bone Clocks
by David Mitchell, you will enjoy this very cool and compelling 2016 release. I, for one, am looking forward to whatever Peevyhouse writes next!
I listened to this audiobook from July 2 - 6, 2016 and my review is also on
Goodreads
.