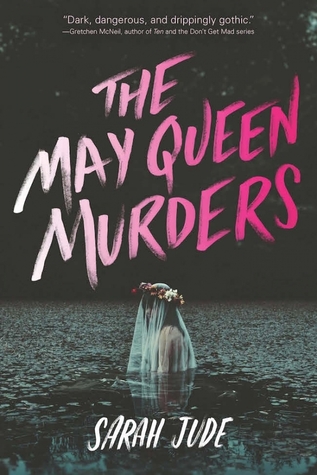 ❋
❋
❋
Ivy's family has lived in the remote community of Rowan's Glen in the Missouri Ozarks for centuries. She loves the traditions and the superstitions associated with that way of life and wouldn't trade it for anything. She doesn't care that the other kids at school think the kids from Rowan's Glen are weird, and she has her cousin (and best friend) Heather at her side. As far as Ivy knows, they share everything, that is, until Heather goes missing after the community's May Day celebration. Ivy quickly begins to realize that the town is as full of secrets as the woods surrounding them.
The May Queen Murders
by Sarah Jude is a decent YA mystery debut. It has quite a bit of potential, but it doesn't quite live up to it. The characters are interesting to follow, but I didn't click with them; however, it was good to see the diversity. Initially, I was expecting the murders and mutilations to have some sort of supernatural twist, but that's not the case at all. In fact, there are multiple reveals - one after another, after another. I enjoyed working through the mystery, but what made me lower my rating from a four stars down to three is all of the last minute reveals. The last 30 pages are unnecessary and overly gory that just seemed to me to be tacked on for the sake of another shock.
Overall, Sarah Jude's debut,
The May Queen Murders
is a decent mystery à la M. Night Shyamalan's
The Village
, but unfortunately it features an overstuffed and unnecessary denouement.
I read this novel from June 20 - 26, 2016 and my review is also on
Goodreads
.