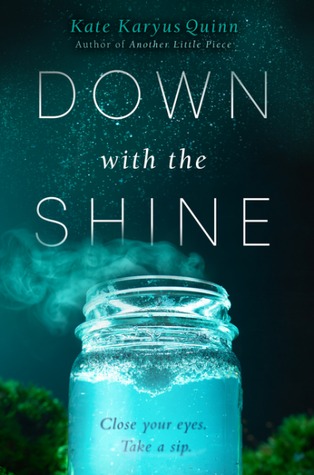 ❋
❋
❋
❋
As far as Lennie knew her uncles' family legacy was bootlegging, so when she takes some of their moonshine to Michaela's blowout house party and does their traditional toast with her classmates. As a part of the toast, everyone makes a wish before they drink. Even Lennie makes a wish of her own, to bring back her best friend, Dylan, who was murdered six months ago. When the sun comes up, Lennie realizes pretty quickly that her uncles' family legacy is actually in wish granting - and now that legacy has been passed to Lennie. Most of those wishes she granted came out bad, if not downright dangerous, and once made a wish can't be unmade.
Down with the Shine
by Kate Karyus Quinn is such a fun YA fantasy novel with the perfect amount of humor. I actually found myself cracking up several times throughout - Quinn has excellent comedic timing. I don't know if I will be able to look at a bag of Cheetos the same way! I'll have to try more by this author, and I hope she will further explore more of Lennie's world in the future. If you are a fan of
Supernatural
or
The Awesome
by Eva Darrows, you will love this new novel!
I read this book from June 26 - July 9, 2016 and my review is also on
Goodreads
.