The Friday 56 (With Book Beginnings): The Girl From Everywhere (The Girl From Everywhere #1) by Heidi Heilig

These are the rules:
1. Grab a book, any book.
2. Turn to page 56, or 56% on your eReader.
3. Find any sentence (or a few, just don't spoil it) that grabs you.
4. Post it.
5. Add the URL to your post in the link on Freda's most recent Friday 56 post.
I'm also taking part in Book Beginnings, a weekly meme hosted by
Rose City Reader
. The rules are pretty simple - you share the first sentence or so and your initial thoughts, impressions, or whatever else it inspires. Don't forget to link up your post's url with Rose City Reader.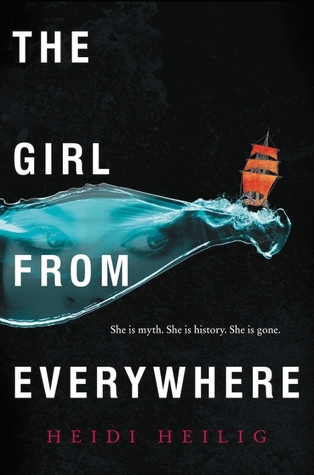 This week I'm spotlighting one of my current reads,
The Girl From Everywhere (The Girl From Everywhere #1) by Heidi Heilig
. I've just started into it, but I'm already enjoying it quite a bit. From what I can see it's quite unique - what with sailing ships, maps, and time travel! This is one of my most anticipated debuts of 2016, so here's to hoping it keeps it up.
Beginning:
It was the kind of August day that hinted at monsoons, and the year was 1774, though not for very much longer. I was in the crowded bazaar of a nearly historical version of Calcutta, where my father had abandoned me.
He hadn't abandoned me for good - not yet. He'd only gone back to the ship to make ready for the next leg of the journey: twentieth-century New York City. It was at our final destination, however, where he hoped to unmake the mistakes of his past.
56:
Bee recommended hard work as a cure for any emotional turmoil. I followed her down into the hold, which still smelled of tigers, although the cages had been replaced by a handful of boxes scattered haphazardly. Instant coffee; my father lived on the stuff. A crate of toilet paper. Aspirin and iodine and antibiotics. Bleach and bamboo toothbrushes and toothpaste with fluoride.