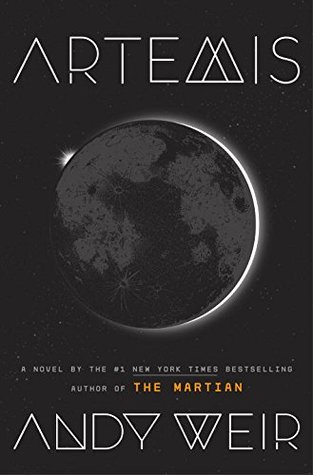 ❋
❋
❋
❋
❋
I received an ARC from NetGalley in exchange for an honest review.
Jazz Bashara is a smuggler of harmless contraband on Artemis, the first and only city on the moon that's mostly populated by the super wealthy and tourists on a once-in-a-lifetime trip. After all, she's got bills to pay and her job as a porter barely covers the rent. She changes her tune when she's offered the opportunity to make a fortune by pulling off a seemingly perfect (and impossible) crime. Before Jazz knows it, she's walked straight into a conspiracy for control of the city and that her only chance of living relies on a plan that's even riskier than the first.
When I saw this novel available to request on NetGalley, I crossed my fingers and hoped that I'd get approved. I fully expected not to for such a hyped up release, but when I read the notification saying I had I might have shrieked in excitement. Now that I've finished it, I can officially say that I absolutely loved it. I was hooked on Weir's new sci-fi novel right from the first page. It's one of those books that I wanted to read in one sitting, but I restrained myself so I could savor it for a little while longer. My expectations were sky high based on how much I loved
The Martian
, and for the most part
Artemis
lives up to it. Of course, it's quite a bit different, but if you like the technology, science, and sense of humor of
The Martian
as well as an incredibly memorable and unique lead and heists stories you need to meet Jazz stat.
Overall,
Artemis
by Andy Weir is an absolute must read if you need a new sci-fi caper in your life. It's a quick and addicting read that you want to savor for as long as you can. This novel has definitely made my list of favorite reads of 2017. Andy Weir certainly knows how to tell a story and I can't wait to see what he does next!
Thanks again, NetGalley!
I read this ARC from November 7 - 16, 2017 and my review is also on
Goodeads
.