Book Riot's 2017 Read Harder Challenge - November Update: Warhead & St. Lucy's Home For Girls Raised By Wolves
How has Thanksgiving already come and gone with Christmas already on the way? If you've been following my progress this year for
Book Riot's 2017 Read Harder Challenge
, you'll know it's time to find out how I did in the month of November! Well, this November I completed tasks twenty-one and twenty-two which required me to read a book published by a micropress. (From Roxane Gay, bestselling author of
Ayiti, An Untamed State, Bad Feminist, Marvel's World of Wakanda, Hunger
and
Difficult Women
) and a collection of stories by a woman. (From Celeste Ng, author
Everything I Never Told You
and
Little Fires Everywhere
). For the tasks, I selected
Warhead by Ricardo Delgado
and
St. Lucy's Home for Girls Raised by Wolves by Karen Russell
. Read on to see my mini reviews of both and what books I plan on reading to complete this year long challenge:
❋
❋
❋
❋
Like dark and gritty sci-fi in the style of Dashiell Hammett and Raymond Chandler, then you need to try
Warhead
by Ricardo Delgado. By the way, there are no humans in this novel from
Reliquary Press
. It features nearly everything I could have been looking for, but sometimes Delgado's prose turns just a little too violet-tinged for my tastes.
I read this novel from November 20 - 23, 2017 and my review is also on
Goodreads
.
❋
❋
❋
❋
Karen Russell's debut collection of ten short stories is unique and absolutely fascinating. I don't read a lot of short story anthologies, but Karen Russell is one of the best in my opinion at completely reeling you in over the course of twenty or so pages. I also really appreciate her brand of magical realism. My favorites from this collection include "Z.'s Sleep-Away Camp for Disordered Dreamers", "
from
Children's Reminiscences of the Westward Migration", "Out to Sea", and "Accident Brief, Occurrence # 00/422", and "St. Lucy's Home for Girls Raised by Wolves". Several of these stories I would enjoy seeing more from that world, especially the title story.
I read this from November 10 - 11, 2017 and my review is also on
Goodreads
.
Next up for December, the final portion of the Challenge:
23. Read a collection of poetry in translation on a theme other than love. (From Ausma Zehanat Khan, author of the Esa Khattak/Rachel Getty mystery series, including The Unquiet Dead, The Language of Secrets, and the forthcoming Among the Ruins)
Initially, I planned on reading
Stolen Air: Selected Poems of Osip Mandelstam by Osib Mandelstam, translated by Christian Wiman
, but as it turns out that particular book has been withdrawn from the library I was hoping to borrow it from via interlibrary loan (there was only one copy in the entire consortium). Instead I've decided to tackle
Purgatory
, the second part of
The Divine Comedy
by Dante Alighieri. (Unfortunately, I actually don't have that many options available to me through the library consortium when it comes to translated poetry not about love - so I figured I'd tackle a classic narrative poem.)
24. Read a book wherein all point-of-view characters are people of color. (From Jacqueline Koyanagi, author of sci-fi novel Ascension)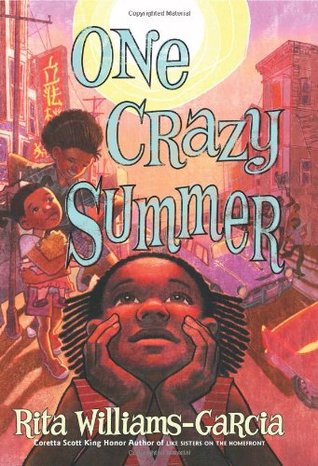 My choice -
One Crazy Summer by Rita Williams-Garcia
- I've been meaning to read this middle-grade historical fiction novel for quite a while, so what better time than for this challenge.
Congrats if you made it this far! Have you read any of these books or have you taken on Book Riot's Read Harder Challenge before? Thanks as always for visiting my blog, and perhaps even commenting down below!