❋
❋
❋
❋
It's been a few years since Ross has returned and he's beginning to realize that Demelza has grown up, and has caught his eye. She not at all the same as regal Elizabeth, but she is more than irresistible. After the couple marries, Demelza knows she'll have to adapt to the ways of the upper classes, so as not to embarrass Ross or herself. While they know joy in each others company, they also experience more than their fair share of trouble - enough to test their strong marriage bond.
After finishing
Ross Poldark
, the first book in
The Poldark Saga
, I knew I had to read book two as soon as possible. It was a long wait for it to arrive at the library, but fortunately my time on the waitlist wasn't as long as my wait for book one. Like the first installment,
Demelza
is a great read and well worth your time. I really enjoyed being back with the characters I've grown to love from the first novel. As a fan of the 2015 tv adaptation, I was pleased to learn that both book one and book two were faithfully adapted. Of course, there are a few changes between the mediums. The most dramatic change is in the scene where Ross learns of Demelza's role in Verity and Captain Blamey being reunited. His reaction is entirely different in the book and it gives me a completely different view of the character (and makes me appreciate Aidan Turner's portrayal all the more).
Overall, this series is a must-read for fans of the tv adaptation and lush, character driven historical fiction. I can't wait to continue the series with book three,
Jeremy Poldark
. And, of course, I can't wait for the next season of the tv adaption.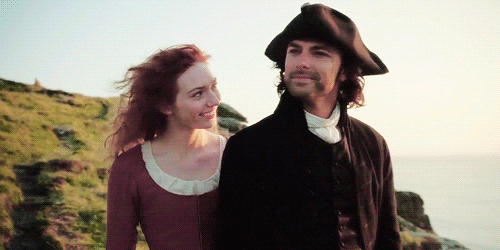 I read this book from March 1 - 2, 2016 and my review is also on
Goodreads
.