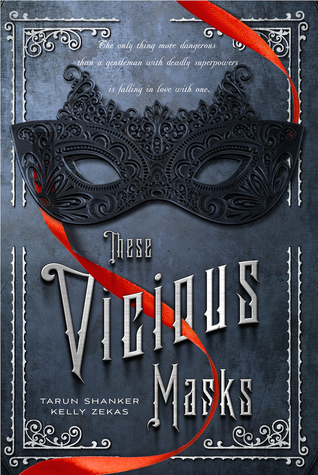 ❋
❋
❋
❋
Evelyn is bored and fed up with society and her parents expectations. When Evelyn's sister, Rose, mysteriously disappears, she travels to London against her parents (who are doing nothing to find Rose) wishes to find her with her dashing friend Mr. Kent by her side. They quickly realize that they aren't the only ones looking for Rose. The young, and irritatingly Byronic, Mr. Sebastian Braddock is also searching for Rose, claiming that both sisters have special healing abilities. Evelyn, already convinced Sebastian is mad from previous encounters, believes she needs no further proof of his insanity until she stumbles upon the truth, which leads her to realize that Sebastian isn't as crazy as he sounds. Her sister may be in a much different kind of danger than she feared - it's not just her reputation that's at stake now.
These Vicious Masks
by Tarun Shanker and Kelly Zekas is a fun YA debut. I was intrigued as soon as I heard it's billed as Jane Austen meets the
X-Men
, and for the most part it doesn't disappoint. Evelyn, our leading lady, is quite sassy and bold and not at all content to have her life dictated for her. She cares deeply for her sister and when no one wants to make a move to locate her, she realizes she'll have to do it herself if she ever wants to see her again. Regardless of what it means for her reputation, she's willing to do what she needs to do to get her sister back. In fact, Evelyn reminds me of Elizabeth Swann from the
Pirates of the Caribbean
movies with just a dash of Claire Bennet from
Heroes
.
Mr. Kent and Mr. Braddock round out the main cast and of the two Mr. Braddock is far more interesting, although he certainly gets off on the wrong foot with Evelyn when they meet. I liked getting to know his character's background as tragic as it turns out to be. When Evelyn learns the truth about his power, I was surprised to learn that it is something like
(view spoiler)
. I was totally expecting something different, but I liked that reveal. Also, coming from a imprint called Swoon Reads, I was prepared for swooning and romance in general - even a love triangle, but I was happy to see that it's actually pretty light on that front leaving all the more time for adventure, powers, and snark.
Overall,
These Vicious Masks
is a fast-paced read that has a lot going for it including a tough heroine, superpowers, and a strong sisterly bond. I'm looking forward to more from Tarun Shanker and Kelly Zekas, and, of course, the sequel (and there has to be a sequel after an ending like that!).
I read this novel from March 28 - April 2, 2016 and my review is also on
Goodreads
.