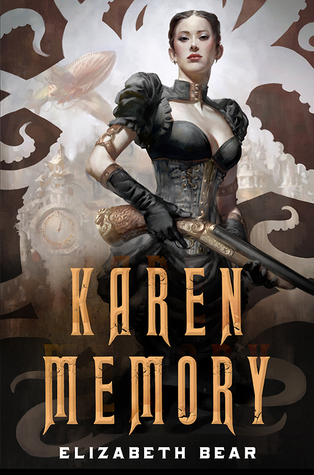 ❋
❋
❋
❋
Karen is trying to make the best of her orphaned status by working at Madame Damnable's high-quality bordello, along with a group of resourceful women, in an alternate pre-underground Seattle Underground. One night an injured girl arrives needing sanctuary and followed by the man who holds her indenture, and this man has a machine that can control people's minds and bodies. If that wasn't enough, they find the body of a brutally murdered streetwalker in their rubbish heap the next night.
Elizabeth Bear's
Karen Memory
has a little bit of something for everyone. It's a pulpy western sci-fi steampunk alternate history thriller with a dash of romance and featuring a memorable and diverse cast of characters. Karen, our narrator, has a distinct, honest voice and she carries this Jack-the-Ripper-esque story well. Even though Karen is such a great character, my favorite is easily Bass Reeves; he totally makes the story for me. If you are unfamiliar with the real-life Bass Reeves, I recommend you look him
up
. Overall, this new standalone adventure from Elizabeth Bear turns stereotypes on their head and is well worth your time.
I read this novel from February 29 - March 8, 2016 and my review is also on
Goodreads
.