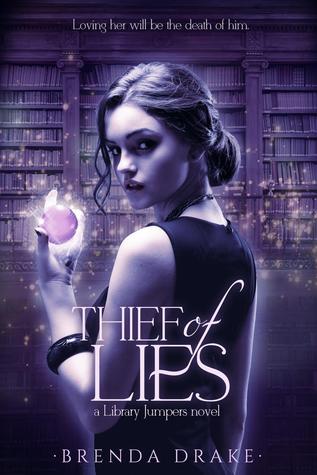 ❋
❋
Gia and her friends suddenly find themselves transported to a Paris library while investigating a book left behind by Arik, a leather-clad hottie, in the Boston Athenaeum. In the Paris library, Arik and his team of Sentinels, magical knights who protect humans from the creatures travelling via gateway books, rescue them from a demonic hound. Gia quickly realizes that she's not at all the person she thought she was - she, too, is a Sentinel of the Mystik world. She also learns that one wizard wants revenge on the Mystik and human worlds and will stop at nothing to destroy everything she holds dear. And, Gia will have to choose between two absurdly sexy boys - Arik, who she is forbidden to be with, and Bastien, a young wizard and the socially approved of choice.
I really wanted to like
Thief of Lies
by Brenda Drake more than I did. I mean, the concept had me right from the get-go with jumping into different libraries around the world - what a dream! Unfortunately, it didn't live up to my expectations at all. In fact, it doesn't even live up to the first line of the dust jacket summary: "Gia Kearns would rather fight with boys than kiss them." Yeah, there is no sign of that at all since it relies pretty heavily on forbidden instalove with a dash of love triangle to mix things up. Seriously, the amount of times the words "sexy" and "hot" are used to describe the guys is stunning. It also manages to parallel Cassandra Clare's
City of Bones
right from the beginning and doesn't really begin to go it's own way until somewhere around the halfway point. As for the cast, I didn't like anyone all that much, aside from Bastien, Arik's romantic rival. Of all of the characters, Bastien seems to be the most developed and fleshed out, Gia and Arik are kind of boring, and Afton and Nick (Gia's best friends) are, for the most part, consistently annoying.
Overall,
Thief of Lies
by Brenda Drake, unfortunately, didn't live up to my expectations. I may have enjoyed this YA urban fantasy more if it was able to stand on under its own power rather than having to rely so heavily on
City of Bones
by Cassandra Clare. I totally would have preferred more library hopping adventure and less kissing, but then again maybe that's just me.
Final verdict:
I read this book from March 6 - 13, 2016 and my review is also on
Goodreads
.