Welcome to The Friday 56, a weekly meme hosted by
Freda's Voice
.

These are the rules:
1. Grab a book, any book.
2. Turn to page 56, or 56% on your eReader.
3. Find any sentence (or a few, just don't spoil it) that grabs you.
5. Add the URL to your post in the link on Freda's most recent Friday 56 post.

I'm also taking part in Book Beginnings, a weekly meme hosted by Rose City Reader. The rules are pretty simple - you share the first sentence or so and your initial thoughts, impressions, or whatever else it inspires. Don't forget to link up your post's url with Rose City Reader.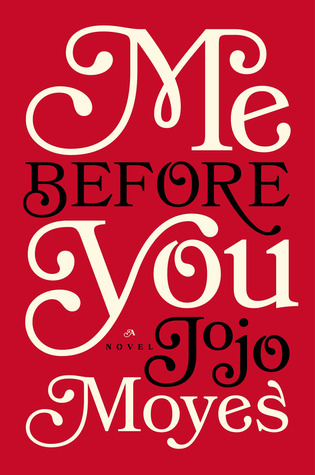 This week I'm spotlighting my next read, Me Before You (Me Before You #1) by Jojo Moyes. This is not my normal sort of read at all, but it's been recommended to me countless times since its release four years ago. I kept putting it off and putting it off, that is until I saw the trailer for the upcoming movie adaptation which really caught my eye. Now, it's high time I actually pick this book up!
Beginning:
When he emerges from the bathroom she is awake, propped up against the pillows and flicking through the travel brochures that were beside his bed.
56:
"Do you know what, Louisa? It would be nice - just for once - if someone paid attention to what I wanted. Me smashing those photographs was not an accident. It was not an attempt at radical interior design. It was because I actually don't want to look at them."