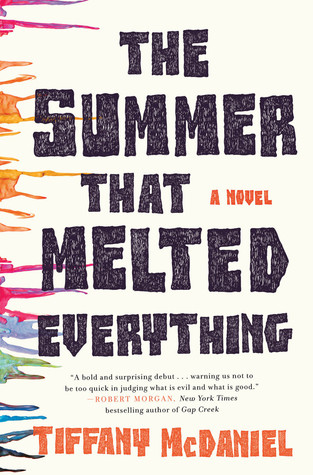 ❋
❋
❋
❋
Sal, a tattered thirteen year-old claiming to be the devil, appears in Breathed to answer an invitation by the town prosecutor. The prosecutor's son, Fielding, brings him home suspecting that Sal has simply run away from his home in the next town over. As word beings to spread across town that the self-proclaimed devil has come to town tensions begin to rise as temperatures soar. Some townspeople start to think that Sal could be exactly who he says as strange events occur.
The Summer That Melted Everything
by Tiffany McDaniel is an excellent and ambitious debut novel that explores many tough topics via magical realism. The Bliss Family is turned upside down as the devil comes to call on the small town of Breathed, Ohio (pronounced Breath-ed). Although, Sal claims to be the devil, which he may actually be - let's just say he has great moments of insight that would prove exceedingly unlikely coming from a thirteen year-old. Even though, Sal claims to be the devil this novel is not that kind of horror story. The townspeople do not need any help in creating their own personal hell of hatred and fear to the perceived threat of what is different. The novel tackles darker themes of racism, homophobia, and misogyny - as people commit unspeakable evils to combat what they judge to be threats. My heart truly aches for this town and the good people inhabiting it.
Tiffany McDaniel's debut is very impressive - I can't believe that this is her first published novel. I'm usually on the Vulcan side when it comes to the plight of characters and emotionally connecting, but here I felt for her written creations. Her character development is the real standout, especially as we follow the Bliss family as they face personal demons and trying times over the course of one scorcher of a summer. I only wish that Fielding's narrative focused on that summer, rather than deviating to other points in his life. Breathed, the setting, is also very much it's own character. It's incredibly atmospheric and takes as important of a role as anyone else in the story. In its own way, Breathed reminds me of Spectre from the film
Big Fish
, seemingly idyllic on the surface but with plenty of dark undercurrents that are finding their way to the surface. Both setting and characters are well-written and feel real, which is, admittedly, a little worrying.
Overall, I highly recommend this fellow Ohioan's debut,
The Summer That Melted
everything. If you're looking for powerful literary fiction and like a dash of magical realism on the side, you will definitely want to try
The Summer That Melted Everything
. You may also want to try this if you would like to know what Harper Lee's
To Kill A Mockingbird
could have been if it was written by Neil Gaiman. The least I can say to Sal is this:
I read this novel from August 30 - September 3, 2016 and my review is also on
Goodreads
.