Happy Tuesday and welcome back to Top Ten Tuesday, a weekly meme hosted by
The Broke and the Bookish
. This week's topic is an All About Audio Freebie - so you have the option of talking about audiobooks, bands, podcasts, albums, etc. I have chose to list some of my favorite audiobooks. Here we go, in alphabetical order by title:
All Our Yesterdays by Cristin Terrill, narrated by Meredith Mitchell
- I lucked out listened to this for free thanks to YA SYNC a couple of years ago - and it's one of my favorite time travel books and the production is excellent.
Code Name Verity by Elizabeth Wein, narrated by Morven Christie and Lucy Gaskell
- I also got this one through YA SYNC. It has a beautiful production - be sure to have a tissues with you!
Divided We Fall by Trent Reedy, narrated by Andrew Eiden
- Again, another YA SYNC title that I was absolutely hooked on this pre-dystopian. If you haven't read this one, I highly recommend it on audio.
Dodger by Terry Pratchett, narrated by Stephen Briggs
- This was another audiobook I got through YA SYNC and it was just the perfect combination of Pratchett's humor and Brigg's narration.
Hounded by Kevin Hearne, narrated by Luke Daniels
- I listened to the first three books in this series and one short story on audiobook, and this narrator is one of my favorites. His performance really brings Atticus and Oberon to life!
Jonathan Strange & Mr. Norrell by Susanna Clarke, narrated by Simon Prebble
- The narrator brings Clarke's world into full color. Although it was over 26 hours worth of listening, it completely held my attention for the entire story and I wish it hadn't ended.
Kill the Boy Band by Goldy Moldavsky, narrated by Barrett Wilbert Weed
- I'm pretty sure this story earned a full star on it's own just from the narrator's performance. The dark sense of humor and tongue-in-cheek tone come across very well in the performance.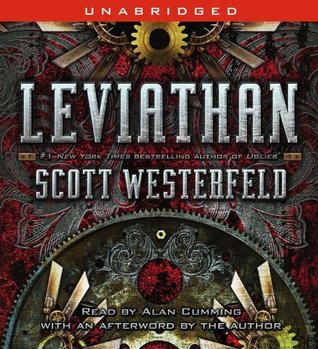 Leviathan by Scott Westerfeld, narrated by Alan Cumming
- I listened to this entire series on audio and it is a wonderful alternate history of World War I. It's a wonderful showcase to Cummings talents!
The Lies of Locke Lamora by Scott Lynch, narrated by Michael Page
- Easily one of the best ever audiobooks I've ever listened to - Page really gives the epic story everything he's got!
Scowler by Daniel Kraus, narrated by Kirby Heyborne
- Fantastic production and the narrator is incredibly talented - an absolute must read for fans of horror and psychological thriller.
What do you think of my list this week? Do you enjoy listening to audiobooks? Have you listened to any of my recommendations? As always, thanks for visiting my blog and for, perhaps, commenting!