These are the rules:
1. Grab a book, any book.
2. Turn to page 56, or 56% on your eReader.
3. Find any sentence (or a few, just don't spoil it) that grabs you.
4. Post it.
5. Add the URL to your post in the link on Freda's most recent Friday 56 post.
I'm also taking part in Book Beginnings, a weekly meme hosted by
Rose City Reader
. The rules are pretty simple - you share the first sentence or so and your initial thoughts, impressions, or whatever else it inspires. Don't forget to link up your post's url with Rose City Reader.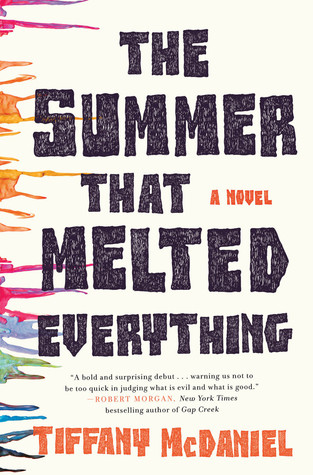 This week I'm spotlighting one of my current reads,
The Summer That Melted Everything by Tiffany McDaniel
. I've been hearing so many good things about this one lately, and I'm really enjoying the style so far. In a way, it reminds me of Harper Lee's
To Kill a Mockingbird
as if it was told by Neil Gaiman - I never expected that that combination could work, but it really is so far. Also, the author is from my home state of Ohio and it's set in the fictional Ohio town of Breathed (pronounced "Breath-ed", not "Breathed" as in the past tense of breathing)!
Beginning:
The heat came with the devil. It was the summer of 1984, and while the devil had been invited, the heat had not. It should have been expected, though. Heat is, after all, the devil's name, and when's the last time you left home without yours.
56:
People think hell is about flames and demons, but I employ no demons. There are fires, yes, each door burns. I've started none of these fires, not even the one that burns my own door. And just as I cannot put out my own, I cannot put out theirs.