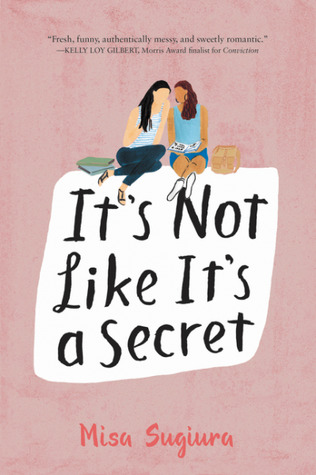 ❋
❋
❋
❋
❋
When Sana Kiyohara and her family move to California from Wisconsin, she decides it's time to be honest with herself. She has a crush on her best friend, Jamie Ramirez. She's smart, beautiful, and different from anyone Sana's known before. There are a few problems with this - Sana's new friends don't trust Jamie's, Jamie's friends don't seem to want Sana around, and a classmate named Caleb appears to have more than friendly feelings for Sana. Plus, Sana doesn't know how well her strict Japanese parents will react to Jamie as a friend, let alone as a girlfriend. Not to mention, her father's affair is becoming to obvious for her to just ignore. Sana always thought that the hardest thing would be telling people that she wants to date a girl (and revealing that the truth about her father's affair), but it turns out that it's the stuff that comes afterward is what's really difficult and complicated.
I really lucked out with
It's Not Like It's A Secret
by Misa Sugiura. I won an ARC of this YA debut via
Epic Reads
(it's always exciting to receive unexpected bookmail!) and so far it easily ranks as one of my favorite reads of 2017. I'd even go so far as to say that this is going to be one of my all time favorite YA Contemporaries. YA Contemporary isn't normally one of my go-to genres, but this debut immediately caught my attention as a diverse LGBTQIA contemporary romance with a Japanese-American and Mexican-American at the center. Sana is a great leading character and she feels incredibly real and relatable. She's flawed, makes mistakes, and is kind of selfish; she feels like she could walk out right out of the pages of the novel. Sana also really grows into herself and that's wonderful to see over the course of the story. I can also say the same about Jamie - it was wonderful to get to know her too. I also want to mention that I was also intrigued by reading more featuring Japanese-American culture in YA. I started studying Japanese in college and I'll have to admit that I was pleased to recognize and/ or remember the Romaji that appears (this book uses a different system than the one I've primarily been studying). On top of everything, the author gracefully discusses difficult topics with great skill and sensitivity.
Overall,
It's Not Like It's A Secret
by Misa Sugiura is the best YA Contemporary I've read this year and is one of the best YA debuts of the year at that. This coming-of-age novel is an absolute must-read. If you like Becky Albertalli, David Leviathan, and Rainbow Rowell, you will definitely like Misa Sugiura. I'm looking forward to her next project!
I read this ARC from May 6 - May 12, 2017 and my review is also on
Goodreads
.