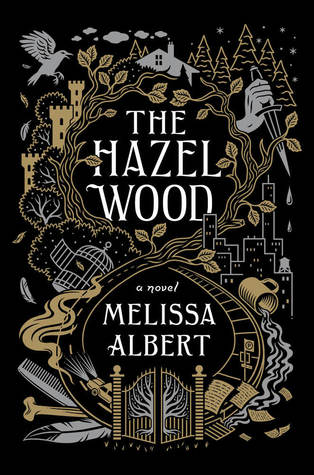 ❋
❋
❋
❋
❋
I received an ARC from NetGalley in exchange for an honest review.
Alice has been on the road for most of her life. She and her mother have been trying to stay a step ahead of the bad luck that seems to follow them where ever they go. That bad luck gets much worse when Alice learns that her grandmother, the author of an out-of-print book of dark fairy-tales called
Tales from the Hinterland
, has died at her upstate New York estate named the Hazel Wood - her mother has been kidnapped by a figure claiming to be from the Hinterland, the setting of her grandmother's book. Alice only has one lead, a message from her mother telling her to "Stay away from the Hazel Wood." Alice has no idea where to start if she wants to find her mother - she'd never met her grandmother, never knew exactly where she called home, and had never even read her book (as per her mother's orders). She's always dodging her grandmother's obsessive fans, but now she realizes that she'll have to turn to Ellery Finch, a superfan and her classmate who just may have his own motives, if she ever wants to see her mom again.
The Hazel Wood
by Melissa Albert might just be the best YA debut novel I read all year, and although it's still January, this is certainly going to be one of my favorite reads of 2018. She sets the bar incredibly high with her darkly whimsical fairy-tale-esque style, compelling characters, slightly off-kilter pacing (which works very well in this case), and wonderful world-building. I actually went into this story knowing very little aside from the description. Usually, I enjoy reading other reviews and going a little more in-depth, but I think it's actually beneficial going into this familiar feeling yet incredibly unique story (mostly) blind. In my case, I was completely hooked right from the opening chapters - tonally it's exactly up my alley and I just had to know more about Alice and her world. I liked getting to know Alice and Finch (who feels like he might be at home with the Raven Boys) as they travel. While Alice isn't exactly likable, she's a fascinating and flawed character to follow as she leads the story. I also particularly love that we get to see a couple of the stories from
Tales from the Hinterland
within this story.
Melissa Albert's debut YA novel,
The Hazel Wood
, is an atmospheric, dark, and unsettling fantasy that would be perfect for fans of Holly Black, Maggie Stiefvater, and perhaps even Jacob and Wilhelm Grimm. I can't wait to see what she will do next with the currently untitled sequel that's due out next year. If you like dark YA fantasy and fairy-tales, you absolutely need to give this debut a shot.
I read this ARC from January 27 - 28, 2018 and my review is also on
Goodreads
.