Happy Sunday everyone! Today I'll be sharing my thoughts on two movies I've seen lately at the theater that I was highly anticipating. Read on for my mini reviews of
Black Panther
and
A Wrinkle in Time
and to see what movies I hope to see next at the theater: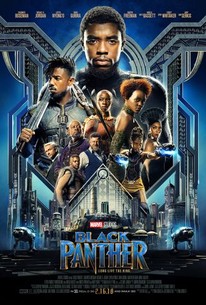 ❋
❋
❋
❋
❋
T'Challa, aka the Black Panther, was one of my favorite characters in
Captain America: Civil War
so needless to say I was very excited to see his first solo outing on the big screen. Luckily for me, I was not disappointed in the least! I loved getting a look into the colorful world of Wakanda and meeting all of the new characters (and seeing our returning cast). As great as it was to see T'Challa again, Shuri and Okoye totally stole the show. Shuri and T'Challa's sibling relationship was a lot of fun - and it was very cool to see Shuri take charge with all of the science and technology. As for Okoye, I really appreciated her sense of honor and bravery - as well as her awesome fighting skills, of course. Finally, Michael B. Jordan's Erik Killmonger is one of the best, most thought-provoking and complex villains the Marvel Cinematic Universe has given us (I'd say he's right up there with Loki). I'd love to experience this movie at the theater another time!
❋
❋
❋
While not perfect, this movie adaptation of
A Wrinkle in Time
has so much going for it and so much to like. Before I get into that, though, I'd like to mention a few of the minor stumbling points in the film. A major point for me is the pacing - the beginning feels quite rushed while there are points that really drag, especially with the songs used in the movie (I like the songs, but in the scenes in the movie they didn't quite fit). Plus, the dialogue in some scenes is a little clunky - I expect Charles Wallace is a difficult character to pull off, but unfortunately a bit good bit of this is comes from his character. Now on to what I loved, to start with the visuals are absolutely stunning
and it's a joy to see up on the big screen. Otherwise, I love the fact that the story is so determined, hopeful, and inclusive. I also really appreciate the casting of
A Wrinkle in Time
, especially for Storm Reid and Chris Pine. Both of them gave fantastic performances in their roles. I didn't know what to expect from Pine as Mr. Murry, but he owned the part and practically stole the show even though he doesn't have a whole lot of screen time. As for Reid, I don't think I could have asked for a better person to portray Meg. I will definitely be watching this young actress's future career.
Next up:
Love, Simon - Simon vs. the Homo Sapiens Agenda
by Becky Albertalli
is one of my favorite YA contemporary novels and I can't wait to see Simon's story on the big screen. So far all of the trailers I've seen look incredibly promising!
Ready Player One
-
Ready Player One by Ernest Cline
is so much fun and I just can't wait to see this on the big screen. The trailer looks so cool and fingers crossed that the movie brings it all to life!
Have you seen either of these movies? What have you watched lately and what do you want to see next? As always, thanks for visiting my blog and perhaps even commenting down below!