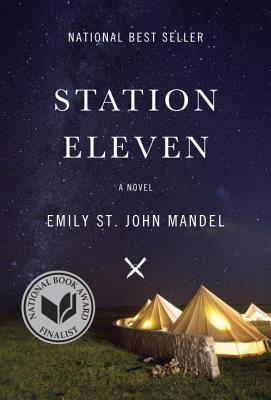 ❋
❋
❋
❋
❋
On the same night that a famous actor dies of a heart attack on stage during a production of
King Lear
, the world as we know it falls apart thanks to an incredibly fast-acting disease. Fifteen years later, one of the child actresses performing that stage that same night keeps moving with the Traveling Symphony performing Shakespeare and music for communities of survivors. When they return to St. Deborah-by-the-Water after a year away they find the town has changed and is now lead by a violent prophet who digs graves for the people who want to leave.
Station Eleven
is a stunning post-apocalyptic novel that cover decades revealing the nature of life before and after the pandemic. I fell in love with Emily St. John Mandel's ambitious and emotional novel almost immediately. Her writing style is brilliant. I enjoyed putting the pieces of the puzzle surrounding the characters and the events shaping the present. Each character, while not necessarily likable, are fully realized on the page and getting to know them over the course of their journeys was very interesting. In its entirety, this novel is captivating. Easily one of the best novels I've read this year. I only wish there was more.
I read this novel from May 31 - June 2, 2015 and my review is also on
Goodreads
.