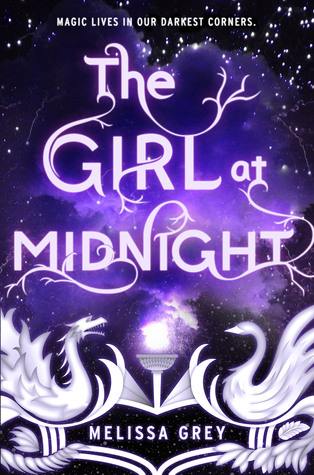 ❋
❋
❋
❋
❋
An ancient race of magical bird-like people called the Avicen live hidden from humans beneath the streets of New York. The only human who walks among them is a young thief called Echo and the Avicen are the only family she has ever known. When the cold war between her adopted people and the Drakharin begins to heat up, she decides it's time to act. According to legend the conflict can be stopped by the mythical Firebird and if life as a thief has taught Echo anything it's that she will have to hunt down and take what she wants.
Melissa Grey's atmospheric debut novel
The Girl at Midnight
has, so far, been one of my favorite reads of the year. It features some great characters with unique voices in a well developed fantasy world right beneath our feet. Echo is a fantastic character - I like her sense of snark and her loyalty. I only wish Ivy and Rowan could have had more page time. There is a touch of romance in the novel which did border relatively close to instalove, but all things considered it didn't bother me. Even though the story wasn't entirely unique, it's still an incredible ride. If you like
Daughter of Smoke and Bone
by Laini Taylor and
City of Bones
by Cassandra Clare, you will enjoy
The Girl at Midnight
by Melissa Grey. I'm looking forward to the sequel,
The Shadow Hour
!
By the way, did anyone else think of
Doctor Who
when it came to Caius's Rose and pears flashback? Or, was that just me?
I also had to finish the "One does not simply walk into Mordor" quote with "Its Black Gates are guarded by more than just Orcs. There is evil there that does not sleep, and the Great Eye is ever watchful. It is a barren wasteland, riddled with fire and ash and dust, the very air you breathe is a poisonous fume. Not with ten thousand men could you do this. It is folly." I just couldn't help myself!
I read this novel from June 15 - 19, 2015 and my review is also on
Goodreads
.