This year is really flying by isn't it? Anyway, now that March has come to a close this means that I've completed 6 out of 24 books of
Book Riot's 2019 Read Harder Challenge
! The tasks I completed this month required me to read an alternate history novel
and a
book of mythology or folklore

.
For the tasks, I selected
Curtsies & Conspiracies (Finishing School #2) by Gail Carriger and
The Lost Hero (Heroes of Olympus #1) by Rick Riordan.
Read on to see my mini reviews and what's next for April:
❋
❋
❋
❋
Within the last year or so Gail Carriger has become one of my favorite authors. Now that I've completed
The Parasol Protectorate
, I'm glad I can go back through this YA prequel series. It's awesome seeing characters younger versions of some of that series appear here, like Lord Akeldama, Sidheag Maccon, and Genevieve Lefoux. As for Sophronia, our lead in this series, she's one of my favorites. I can certainly appreciate just how resourceful, smart, and loyal she is. I'm looking forward to reading book three,
Waistcoats & Weaponry
.
I read this novel from March 10 - 14, 2019 and my review is also on
Goodreads
.
❋
❋
❋
❋
❋
Why did I put off
The Lost Hero
for so long? I mean, I already know I love Rick Riordan's writing, sense of humor, world-building, and diverse characters. Luckily for me, this new-to-me series opener is just as awesome as everything I've read from him. In fact, I think I've found some new favorite characters here - and many characters we've already met before appear in this novel as well. Of our three new leads, I especially enjoyed reading Leo's and Piper's chapters. I'm also intrigued by how Riordan is handling the differences between the Greek gods and the Roman aspects. Finally,
The Lost Hero
is so much fun. I can't wait to read
The Son of Neptune
!
I read this novel from March 21 - 28, 2019 and my review is also on
Goodreads
.
Next Up For April:
A comic by an LGBTQIA creator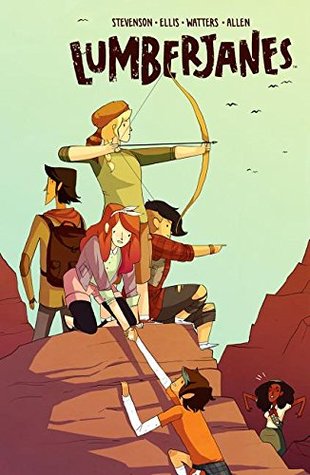 My choice:
Lumberjanes, Vol. 2: Friendship to the Max by Noelle Stevenson
- The first volume of the graphic novel series was so much fun and I'm really looking forward to continuing it.
A book written in prison
My choice:
Le Morte d'Arthur by Thomas Mallory
- King Arthur is one of my favorite characters yet somehow I've never read this classic. Plus, I had no idea that it was written in prison.
Have you read any of these books? Are you participating in the Read Harder Challenge this year, or have you in the past? As always, thanks for visiting my blog and perhaps even commenting down below!