Welcome to my wrap up for
Winter Bookish Bingo
hosted by
Bekka @ Pretty Deadly Reviews
! This season I managed to complete 18 of 25 books, making a total of three bingos. I'd say I did a pretty great job this season! Read on for my mini reviews of the books I've completed since
my last update
:
Romance:
❋
❋
❋
❋
Alex, Approximately
by Jenn Bennett was such a pleasant surprise! I loved it a lot more than I was expecting to since YA contemporary romance isn't my go to genre. Much of my love for this novel all comes back to Alex and Mink's love of classic movies. We have a lot of similar tastes which was awesome to see. It isn't often that you see a love of the classics in YA, so I got a kick out of all of the references. I just wish the big reveal that's mentioned right in the book's jacket description about Porter/ Alex happened much, much sooner in the story. Either way, I'm looking forward to reading more by Jenn Bennett in the future.
I read this novel from February 2 - 7, 2019 and my review is also on
Goodreads
.
Features Tech:
❋
❋
❋
❋
I'd been meaning to read
Alif the Unseen
by G. Willow Wilson for ages because I particularly enjoyed her run with
Ms. Marvel
. Luckily for me I can now officially say that I enjoyed her brand of urban fantasy as well. The combination of religion, technology, philosophy, and political intrigue is incredibly well done. I highly recommend this to fans of
Snow Crash
by Neal Stephenson. I'm looking forward to reading more G. Willow Wilson's novels in the future.
I read this from February 1 - 2, 2019 and my review is also on
Goodreads
.
Disabled MC:
❋
❋
❋
❋
❋
Wonder
by R.J. Palacio is absolutely marvelous. It's incredibly inspirational and heartwarming. I want to know Auggie and his parents. Everyone needs to read this novel! If it isn't already on middle school reading lists, it really ought to be. Plus, you may want to do yourself a favor and try the movie adaptation because I'd say it's just as great.
I read this from February 10 - 13, 2019 and my review is also on
Goodreads
.
Start a Series:
❋
❋
❋
❋
❋
Trail of Lighting
(
The Sixth World
#1) by Rebecca Roanhorse was absolutely amazing! Why did I put it off for so long?! It's easily taken its place as a favorite read of 2019. I loved getting to know all of Roanhorse's complex characters. Maggie is hands down one of my favorite leads without question - I have to appreciate her honesty, smarts, and her special set of skills. As fantastic as all of the characters are here, the world-building is stunningly refreshing (I just wish I was more familiar with Navajo language, pronunciation, culture, and traditions). This is the first Navajo post-apocalyptic urban fantasy that I've ever read and I have to say that I need more. I'm dying for book two,
Storm of Locusts
. I could go on and on about this, but just do yourself a favor and jump right in!
I read
Trail of Lighting
from February 2 - 21, 2019 and my review is also on
Goodreads
. You can also find my review on my blog
here
.
Male Main Color:
❋
❋
❋
❋
I had
Clean
by Alex Hughes on my shelf for ages, but I'm glad I finally decided to pick it up. The premise is really cool with it's unique world combo of tech and telepathy. The world building is easily my favorite element, alongside the noir-esque tone. Personally, I think I would have liked to have seen more of the world before and during the wars set sixty years before our main story. I'm looking forward to continuing this series with
Sharp
.
I read this novel from January 28 - February 7, 2019 and my review is also on
Goodreads
.
Fave Author:
❋
❋
❋
❋
Cat Winters has quickly become one of my favorite historical fantasy authors for both YA and adult audiences. Her writing is always outstanding, and the historical detail, and atmosphere are always incredibly compelling. It's no different with
Yesternight
which hooked me right from the beginning. My only complaint is that as much as I enjoyed spending time with the characters and unraveling the mystery at the heart of the story, I wish it were just a little bit shorter. I can't wait to read
The Steep and Thorny Way
,
Odd & True
, and
The Raven's Tale
in the future.
I read this from February 14 - 21, 2019 and my review is also on
Goodreads
.
Animal on the Cover: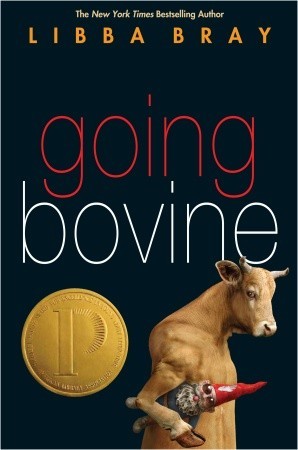 ❋
❋
❋
❋
I had no idea what to expect with
Going Bovine
by Libba Bray, but I knew I was in good hands no matter what with Libba Bray. While it's totally worth picking up, but it's completely weird and unexpected in the best of ways. If you enjoyed the style and tone of Bray's
Beauty Queens
, I have a feeling you'll like this as well.
I read this from January 23 - 31, 2019 and my review is also on
Goodreads
.
2019 Debut:
❋
❋
❋
❋

I received an ARC from NetGalley in exchange for an honest review.
When smallpox kills her parents, Camille Durbonne must find a way to provide for her frail, naive sister while managing her volatile brother. Relying on petty magic—la magie ordinaire—Camille painstakingly transforms scraps of metal into money to buy the food and medicine they need. But when the coins won't hold their shape and her brother disappears with the family's savings, Camille must pursue a richer, more dangerous mark: the glittering court of Louis XVI and Marie Antoinette. With dark magic forbidden by her mother, Camille transforms herself into the 'Baroness de la Fontaine' and is swept up into life at the Palace of Versailles, where aristocrats both fear and hunger for la magie. There, she gambles at cards, desperate to have enough to keep herself and her sister safe. Yet the longer she stays at court, the more difficult it becomes to reconcile her resentment of the nobles with the enchantments of Versailles. And when she returns to Paris, Camille meets a handsome young balloonist—who dares her to hope that love and liberty may both be possible. But la magie has its costs. And when Camille loses control of her secrets, the game she's playing turns deadly. Then revolution erupts, and she must choose—love or loyalty, democracy or aristocracy, freedom or magic—before Paris burns.
Enchantée
by Gita Trelease is a brilliantly captivating new YA historical fantasy novel. Once I got started I didn't want to put it down. The complex world of Revolutionary France that Trelease has created in this novel is atmospheric and thrilling. I practically felt like I was right there in Paris alongside Camille - the city practically becomes its own character. On that note, Camille has easily become one of my favorite new characters. She's willing to do just about anything to protect her younger sister from the crushing poverty all around them and I can totally get behind that. Camille is also quite flawed, but it is remarkable to watch her struggle to deal with the consequences of her magic and ambition. It was also intriguing to track her addiction to magic and how that related to her own identity. As great of a character as Camille is, Lazare is easily my favorite character in the entire novel. He has fantastic chemistry with Camille, and he even has a hot air balloon! As for the magic system, it's quite unique yet simple and I loved seeing the transformations and illusions. It's easy to see how it could all be so addictive. Finally, this easily could have been a five star read for me, but the formatting of the ARC pulled me out of the story. There were several lines on every page where all of the words ran together. Unfortunately that got pretty old quick, but not enough to completely put me off of such a fantastic story.
Overall,
Enchantée
is a great YA debut with a glamorous setting, fascinatingly flawed characters, and a cool magic system. Gita Trelease's writing style is absolutely beautiful and she had me hanging on her every world. I loved how she integrates real life history of the early days of the French Revolution into Camille's story. Plus, I have to admit that I was quite pleased with myself for recognizing all of the French words and phrases peppered throughout the story. If you're a fan of
Caraval
by Stephanie Garber and
Les Misérables
, I have a feeling you'll love this new release. I can't wait to read more from Gita Trelease in the future. Merci, NetGalley! C'était merveilleux!
I read this ARC from January 20 - 22, 2019 and my review is also on
Goodreads
.
Enchantée by Gita Trelease
will be released on February 5th, 2019. My review can also be found
here
on my blog.
Congrats for making it this far! Have you read any of these books or have you taken part in bookish bingo? As always, thanks for visiting my blog and perhaps even commenting down below!